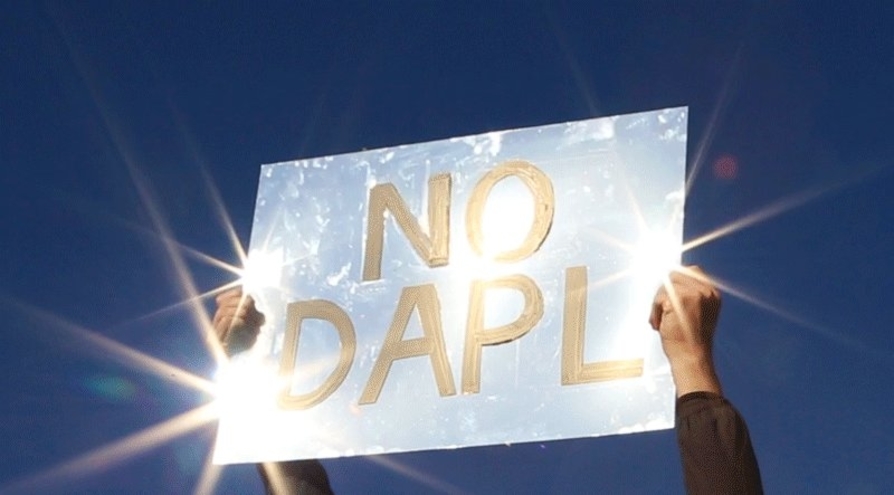 Since April 2016, The Dakota Access Pipeline (DAPL) protests - a grassroots movement in reaction to the proposed diversion of an oil pipeline from North Dakota to Illinois in the United States – have been ongoing and increasing in intensity. With its construction planned beneath a lake that the Native American Standing Rock Sioux tribe uses as a primary source of drinking water, any potential leaks would almost certainly contaminate it. In response to the intensifying violence against protesters, New York designer Nikolas Bentel produced a collection of unique mirrored protest signs.
"The violence and violation of human rights has escalated a lot faster than it has been up until this point," Tia Blaise-Billie, a protester and member of Florida's Seminole tribe told The Creators Project. "Not only are organised forces such as the DAPL employed security and law enforcement increasing their violence against peaceful water protectors on the front lines, but escalated violence against unarmed protectors is being seen from other law enforcement as well."
In response to this increase in violence, Bentel strived to make a tangible and functional contribution. Long a key element in contemporary social activism, artists have been visually communicating political messages through their work since the early 1900's. But, whether protest art does much to truly change a political system is contentious. Bentel's Mirrored Poster Project provides those at the frontlines with a method for protesting that simultaneously serves as a means of expression, defense and communication.
According to Bentel – the same designer behind the Aerochromics collection of shirts that visibly react to air pollution – the mirrored placards "are expressly designed to prevent police from hurting protestors by using the effects of a mirror." By contracting, focusing, and aiming light, they serve multiple purposes and work as both a distraction and a form of protection by creating a divergent lens flare from the bouncing light.
While Bentel also believes they could be used to send non-electronic messages across the plains, it's the posters symbolic nature that its creator hopes is the most disruptive. Because the mirrored placard reflects whatever is ahead of it, those acting in opposition to the protesters will be forced to see their actions reflected back at them in context, a feature that Bentel hopes will cause them to pause and reconsider their actions.
Inspired by the story of Archimedes (an Ancient Greek scientist who repelled Roman warships by getting soldiers to hold up their reflective shields to set the attacking ships on fire), Bentel is sending his mirrored placards out to all protesters who request them and has promised to provide as many as he can until funds run out.