Being in a different time zone to your significant other can be challenging, but sharing apps like SimplyUs or pillows that light up when you are and your loved one are both tucked in for the night serve to bring us closer together in this ever expanding world. Now, with Ken Kawamoto's Tempescope you'll be able to share the sky with your loved ones from the comfort of your own home.
Tempescope is an ambient physical display that reproduces weather conditions according to the weather forecast anywhere in the world. "It's like having a window that lets you look outside at tomorrow's sky," says Kawamoto, a software engineer by day.
It connects to your smartphone (iPhone/Android device) by Bluetooth and receives the latest weather forecast from the internet. "If it's going to rain tomorrow, the Tempescope rains. If it's going to be cloudy, it clouds up," adds Kawamoto.
The device has three different modes of operation. The weather forecast mode shows the forecast 24 hours in the future. The sky sync mode shows the weather in any area the user chooses, and manual mode sets the device to display any weather condition the user prefers.
"Everyone loves reading on a rainy day. The app lets you manually set the weather to play, so you can enjoy any weather, whatever it looks like outside," says Kawamoto.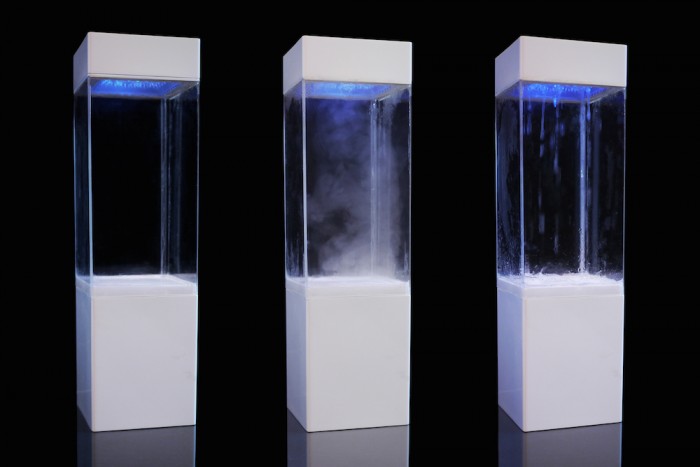 Kawamoto and his team started developing the device as a weekend project and decided to open source the design in 2013. The team of engineers and designers have now launched an Indiegogo campaign in the hopes that final production and shipment of the device can take place in April 2016.
Kawamoto plans to rollout easy to assemble kits as his first shipment. "The reason we're making this as a kit is because we'd like the first people to use this gadget to be OK with taking the extra few steps to finish this off, in the spirit of our open source roots," he adds.