When the Dakar Congress Centre opened earlier this year, the Senegalese capital got a contemporary, clean-lined complex inspired by the country's natural landscape. It has been celebrated internationally and has recently earned Istanbul-based firm Tabanlıoğlu Architects a trophy in the business category of The Plan awards programme at international architecture forum Perspective Europe 2015.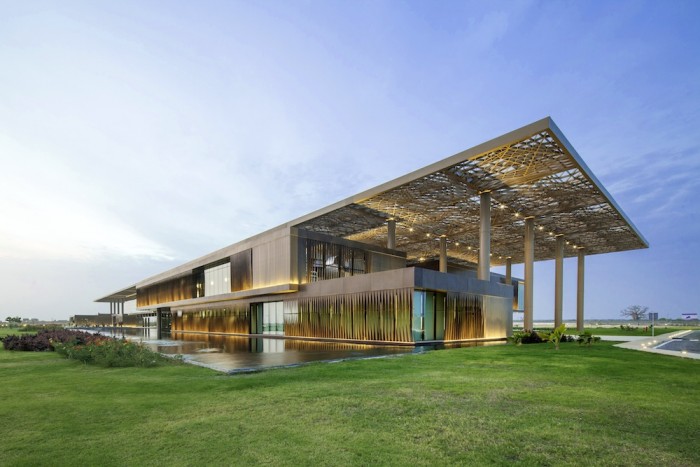 The design of the Dakar Congress Centre was inspired by Senegal's enormous Baobab trees, whose tremendous girth culminates in a distinctive web of root-like branches. They play a central role in Senegalese culture – kings were crowned beneath the tree and they often mark public squares and gathering spaces.
A series of giant tree-like columns rises up to support an overarching, one-piece roof of the Congress Centre. Its flat, seamless plane gathers the various building units underneath and extends outwards at two ends to create an airy flow inwards. The complex – which houses a museum, restaurant and other facilities open to public – is also connected via a series of pools and bridges extending over them. The building comprises a series of blocks enveloped in metal that has been punctured and twisted in sections to allow light in. The roof is a lattice of triangular-shaped webbing resembling the interplay of branches or a skeleton leaf. The reflection of the webbed roof, glass walls and striated metal on the surrounding water amplifies the subtle play of textures.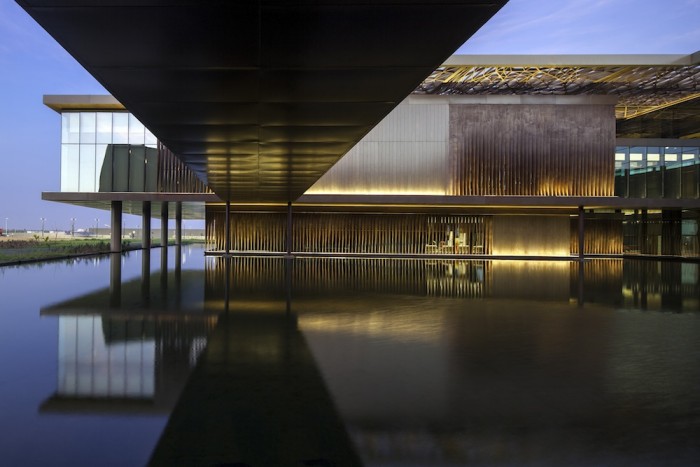 Tabanlıoğlu was founded by Murat Tabanlıoğlu and Hayati Tabanlıoğlu in Istanbul in 1990. Murat studied architecture at Vienna Technical University and lectures at Istanbul Bilgi University. He sits on the jury for awards programmes as the AIA and WAF and served on the Master Jury for the 2013 Aga Khan Award for Architecture. In 2014 Murat was the curator of the first Turkish pavilion at the 14th International Architecture Exhibition at the Venice Architecture Biennale, and in 2015 will be the curator of the Turkish exhibition at Europalia, Antwerp. Melkan Gürsel Tabanlıoğlu, a partner at the firm, studied architecture at Istanbul Technical University and Polytechnic University of Metropolitan Catalonia. Murat and Melkan have been awarded the MEA Middle East Architect Award as Architect of the Year in 2010. In 2013, they were both selected as Architect of the Year by Big Project Middle East Awards.