Studio Lani is a New York-based creative firm that specialises in African furniture design with a modernised sensibility. Spearheaded by designer Lani Adeoye, the studio recently submitted their Talking Tables collection for the NYC WantedDesign Launch Pad competition, presented by Design Milk and Design Within Reach, and was chosen as a finalist for the furniture design category.
According to Adeoye, it is the Talking Tables' authenticity in how they are produced, and the versatility in how they can be used for the contemporary home, that made the project a frontrunner in the competition. Each piece derives its form from a variety of iconic West African percussion instruments, chiefly the Talking Drum.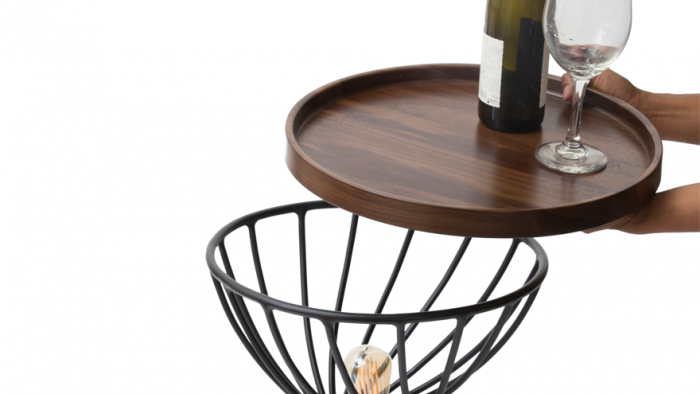 Known in the Yoruba language as "Dundun" (meaning "sweet sound"), the Talking Drum was a tool often used to communicate without words in a dignified way and celebrated for its uncanny ability to mimic the sound of human speech. Now, the craftsmanship that popularised the Talking Drum historically is experiencing a boost with Studio Lani's Talking Tables. The metal frames are all handmade in Lagos, Nigeria.
"Hand-welded steel, hand-turned wood and woven leather unite to form the sculptural and versatile nature of these pieces. The Talking Tables are adaptable – they can serve as side tables, decorative lighting, storage containers and its surface can be used as a tray. They can be customised in a variety of finishes and colours to suit different living spaces," says Adeoye.
Having taken part in the NYC WantedDesign Launch Pad competition successfully, Studio Lani has gained the opportunity to collaborate with other participating designers and connect with reputable furniture manufacturers to expand their portfolio. Studio Lani's work will be exhibited on the main stage of the Launch Pad event in 2018.