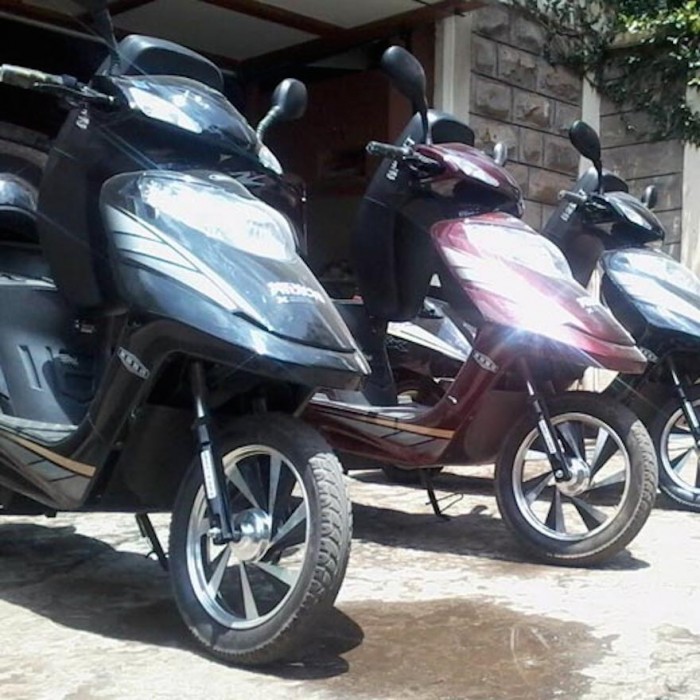 The student team have three solar-powered bikes on Kenyan roads.
Around 80 per cent of the Kenyan population is off the national grid, and those who are connected face frequent disruptions. Locals are forced to spend money on various fuels to compensate for the lack of electricity, causing pollution and exacerbating their impoverished circumstances. Three final year students at the University of Nairobi have decided that these problems are not too big for them to solve.
Charles Ogingo, Robert Achoge and James Ogola founded Pfoofy Power & Light Ltd to come up with smart, innovative and affordable energy solutions for lighting, agriculture and transport for the rural areas of Kenya.
"We believe that the provision of sustainable, smart and affordable energy to the off-grid populations is a thing that grows us as we fight a development challenge," reads the students' website.
The company looks for solutions to the problems in many spheres of Kenyan life. One such solution, called Ecotran, seeks to provide affordable transportation through the use of electric motorcycles recharged through massive solar charging stations.
Ecotran technology is an initiative to curb the high costs of fuel, the high cost of fares charged by motorbike operators, and the associated environmental degradation in rural communities.
The system stores solar energy in batteries and uses it to charge the motorcycle's electric motor. The motorcycle uses a small portable battery which, when fully charged, can run for 70 kilometres.
The students have established a filling station with 40 solar photovoltaic units, each generating 250-watts of electricity.
The technology is being tested using three locally sourced electric motorcycles, but the team plans to scale up their initiative after receiving $100 000 from the United States African Development Fund and Power Africa for the ingenious innovation.
Other Pfoofy Solar solutions include; Solarvill, which involves the leasing of custom made solar lanterns to off-grid households, and SmartPump, an initiative that proposes "rent-to-use" irrigation pumps that use rechargeable cells to pump water to farms.