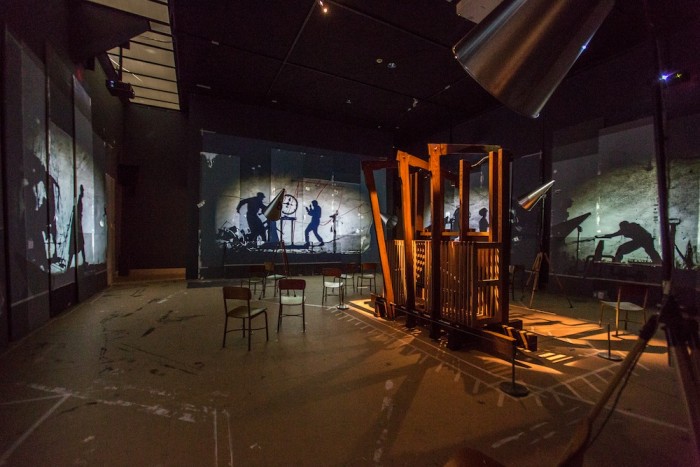 "The Refusal of Time" at the Metropolitan Museum, New York, in 2013.
Design Indaba Festival 2015 will offer an unprecedented opportunity to step inside the mind of William Kentridge, one of South Africa's best-known living artists. A unique lineup of events will present the work of this great artist, allowing audiences to experience the diversity of his output and gain first-hand insight into the creative thinking and process behind it.
Kentridge's work is in demand by major institutions and festivals the world over. He has exhibited, among others, at the Museum of Modern Art in New York, the Musée du Louvre in Paris and Documenta in Kassel, Germany, and has presented his productions at venues such as La Scala in Milan, The New York Metropolitan Opera and Carnegie Hall.
Going back as far as the late 1980s, he drew international attention with his signature animated films using charcoal drawings that explore the history and social landscape of South Africa and dealt with subjects such as Apartheid and colonialism.
The lineup of events at Design Indaba Festival 2015 includes the following:
Performance lecture at Design Indaba Conference 2015
Kentridge will give a performance lecture about his work on stage at Design Indaba Conference 2015. To secure your seat at the Conference to hear him speak, book here.
Beyond the conference presentation, Design Indaba Festival gives a broader audience a multi-faceted experience of his masterful art:
Refuse The Hour chamber opera, Cape Town City Hall, 26 – 27 Feb
Refuse The Hour, a theatrical accompaniment to The Refusal of Time exhibition, will be staged at Cape Town City Hall for two nights only, on Thursday 26 and Friday 27 February 2015.
The engrossing chamber opera, a collaboration with Peter Galison, is a multi-layered experience that includes dance performances and choreography by Dada Masilo, an original score by Philip Miller, video by Catherine Meyburgh, mechanical sculptures, vocal performance and narration.
More than just an evocative theatrical experience, Refuse The Hour is also a chance to see the artist as actor live on stage.
Book your seats for this bespoke performance of Refuse The Hour here.
Watch a clip of a previous version of this magical performance here.
The Refusal of Time exhibition, Iziko South African National Gallery, 20 Feb – 21 June
Iziko South African National Gallery in association with the Goodman Gallery will host the exhibition The Refusal of Time – a collaboration with Philip Miller, Catherine Meyburgh and Peter Galison – from 20 February to 21 June 2015.
Visitors can wander through an immersive installation of five synchronised video projections with moving sculptures and a layered soundscape. The exhibition includes four megaphones around the room that emit different sounds and a large breathing machine at the centre of the room.
More information on the installation at Iziko South African National Gallery available here.
Presentation and book signing at Design Indaba Expo, 28 Feb
Kentridge will speak with his brother, Matthew Kentridge, about "The Soho Chronicles" films and the book that Matthew recently authored on the subject. The presentation will take place in the Events Arena at Design Indaba Expo on Saturday 28 February, from 15:00-16:00 and will be followed by a book signing.
Watch the Talk with William Kentridge