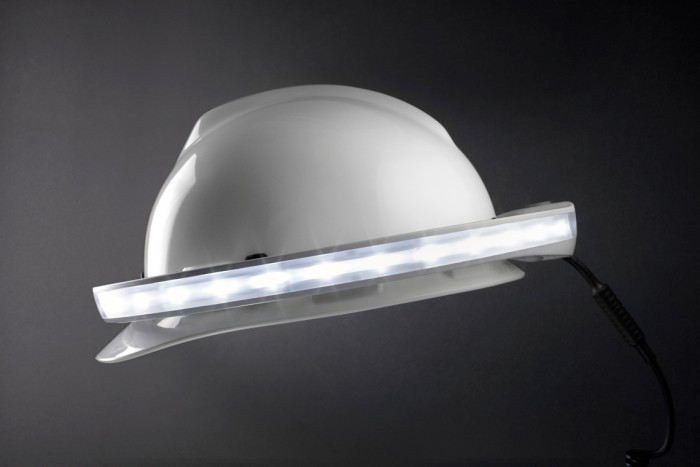 The Halo Light by Pensar and Illumagear.
Working in the depths of a mine or building a bridge or road in the dead of night can often be a dangerous task because of low visibility and insufficient light sources. The Halo Light, with its 360-degree illumination, allows workers to see and be seen at all times on construction sites.
The Halo Light is a nifty and durable plastic ring that fits onto a worker's hardhat. When switched on, a powerful LED light shines brightly in a halo-like manner, providing workers with the necessary visibility they need to complete their tasks in safety.
The light has four modes. Halo puts out 276 lumens, making the wearer visible up to 600 metres away in all directions and at all times. It has a high alert mode, a pulsing light that can be used for grabbing co-workers' attention or signalling to others the worker's whereabouts. The task mode pushes a third of the power to the front of the light, flooding the worker's task area with ample light. As the Halo Light is so bright its fourth mode is dim, allowing workers to have conversations with those around them without needing to turn the light off completely.
Safety products in the construction field have been focussed primarily on passive rather than active alerts. The problem with measures such as retro reflective clothing is they are only as effective as the external light source reflecting them, says Andrew Royal, chief product officer of Illumagear.
Pensar, a Washington, DC-based product design company, collaborated with Illumagear, a manufacturer of personal safety systems, to develop the light in response to the increasing number of injuries and fatalities on construction sites in recent years.
After conducting extensive field research, Pensar and Illumagear became aware of the need for a strong battery life and extreme durability. To address the former, they developed a rechargeable battery that clips to a belt or pocket and connects to the light via a flexible cable with a safety release button. The battery provides workers with up to 12 hours of light.
To ensure durability, Pensar and Illumagear conducted "abuse testing", which involved, among other measures, dropping the light from a three-story window.