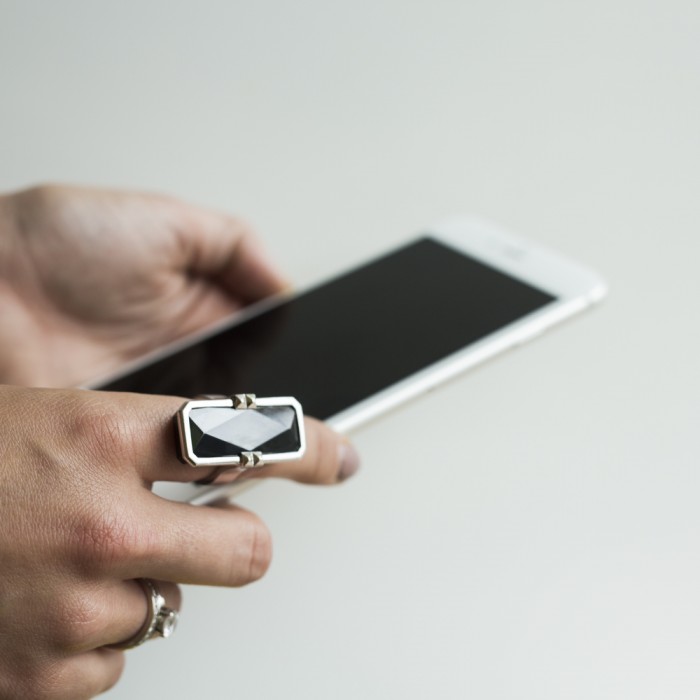 Altruis is the name of Vinaya's interactive jewellery line that works to reduce the distraction of smartphones in everyday life. The London-based studio marries the appeal of handcrafted zirconia ceramic stones with advanced (yet simple) Bluetooth technology to muzzle various intrusive smartphone notifications. The combination allows the user to keep his or her focus on the real-world and enjoy uninterrupted face-to-face conversations.
Each piece of Altruis jewellery (there are rings, necklaces and bracelets to choose from) houses a tiny vibration unit which can be programmed to pulsate in different rhythms against your skin. They can be set up to subtlely let you know when an email has landed, if you have a meeting coming up or if an important contact is trying to call you – all while the phone itself is stored away. This sleek jewellery line is about staying connected discreetly, eliminating the need to glance at your smartphone's screen every few moments.
The technology is especially useful during critical business meetings or social settings in which the user would not want to be distracted by multiple pings and beeps from their phone. The Altruis jewellery line acts as an effective buffer in this regard, allowing the wearer to keep his or her attention vested in immersive experiences – buzzing gently only at the arrival of a prioritised message.
Altruis syncs up with an iPhone via Bluetooth and is able to channel WhatsApp, iOS Calendar reminders, phone calls and other alerts. The kind of messages that reach the jewellery is determined by the user and configured according to their individual preferences. It is an added bonus that the Altruis jewellery happens to be stylish in its own right.
View the video below by Vinaya for more information.