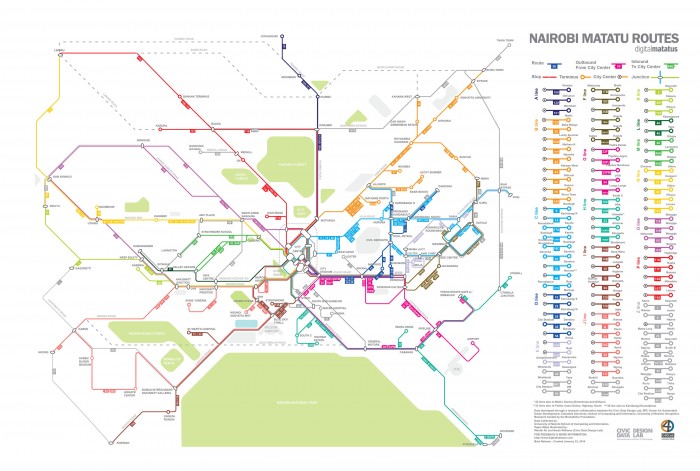 Cities rely heavily on informal networks to bring workers to their places of employment and to transport goods to various marketplaces. Unfortunately, little or no data is readily available about these networks. Commuters experiences challenging logistical circumstances such as frequent bus stop changes and excessive fares that apply when rain occurs. Most times, commuters – and suppliers – can only manage to find their way to work or home through word of mouth. These networks are essential to establishing travel routes but are near invisible to city planners who require this information to pilot and successfully roll-out urban expansion and development.
Ditigial Matatus: Developing Open Data for Informal Transit Systems from Sarah Williams on Vimeo.
Thanks to a novel research project in Nairobi, headed up by Digital Matatus, in collaboration with MIT, Columbia University, the University of Nairobi, and consulting firm, Groupshot Design, Kenyan researchers were deployed, equipped with only Smartphones, to collect and subsequently analyse data from the network of matatus that services Nairobi.
Following on the successful outcome of the project, the open-sourced data was translated to a paper-based map and is also now searchable on Google Maps under a transit option. This affords everybody with a Smartphone to navigate the Kenyan capital using a matatu.
The process of collecting and analysing the data
With the strong need to create a route map along with GTFS compatible data structure, the Kenyan student team members identified various stops from information garnered from frequent commuters, first-hand knowledge, visual notations (signs etc) and if possible, from conversations with commuters groups on specific routes.
Once the data was collected, several workshops were held with the Transit Community to gain insights to inform the GPS data through the app. Post these sessions, the data was 'cleaned' and formatted into GTFS – challenges occurred during this process as calendar data, service infrequencies, scheduling, variable fares and routes were simply not available and/or were changed too often – based on the weather, police presence or on-demand commuter needs – to establish patterns. Therefore a modified GTFS that was agile enough to support a transit system in Nairobi was developed.
Paper and Digital Maps
The paper maps assist commuters and travellers to the region orientate themselves accurately as the routes have been redrawn diagrammatically along 45- and 90-degree and is grouped into coloured lines in accordance to where in the city they travel and positioned in between landmarks. Six months after its release, over 5,000 unique IP addresses downloaded the data for travel use. Five additional mobile applicable providing routeing information to the public have also been developed – including Ma3route, Flashcast sonar, digitalmatatu and matatumap respectively.
According to Sarah Williams, assistant professor of Information Technology and Urban Planning (MIT), "roughly 3.5 million people depend on matatus every day in Nairobi but have little information on the more than 130 different routes. Providing this information via Google Maps not only increases accessibility to the transit system but also serves as a model for how to create information on public transport for cities across Africa where people depend on matatu-like transit systems. Perhaps more importantly, this essential data is now available for transportation planning initiatives in a city that struggles with congestion."
It was Williams' team who developed the data-collection strategy transferred the acquired data to General Transit Feed Specification (GTFS) – that allowed for the data to be included in the Google app; as well as created the stylised transit map that has become renown in Nairobi.
Check out how mapping was conducted in Cape Town, South Africa.