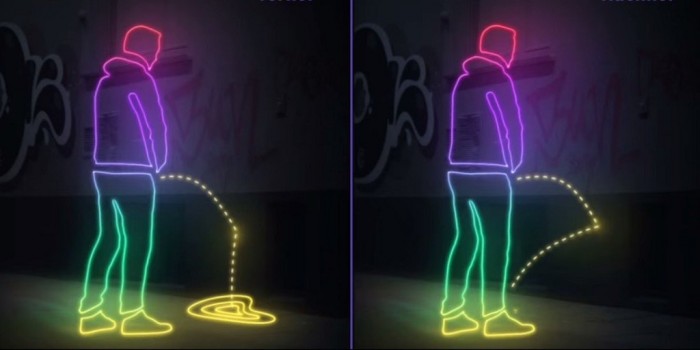 San Francisco has been testing out paint that sprays back the offender's pee onto their feet and legs
City officials in San Francisco have been testing out new "pee-proof" paint as a moral lesson to public urinators. 10 walls across the city have been painted with the special pee-resistant paint, in an attempt to combat a persistent public urination problem.
When a person pees against the paint the liquid doesn't run down the wall: instead the urine sprays back at the offender, soaking his legs and shoes. A nightclub in Hamburg, Germany, who used the same hydrophobic paint on their club walls, inspired the director of public works in San Francisco to try the same tactic in the worst effected areas.
The paint is called Ultra-Ever Dry and its creators, Ultratech International Inc, claim it will repel most liquids. At a nano level, the Ultra-Ever Dry paint creates a barrier of air between the surface and the liquid, so droplets of liquid that are sprayed onto coated surfaces remain spherical and bounce back.
Public urination was banned in San Francisco in 2002, but, even though hefty fines were imposed, the ban has had little effect on the problem. Signs near the paint warn "Hold it!... Seek relief in an appropriate place."
The city has also increased the number of public toilets to help reduce the urine problem.