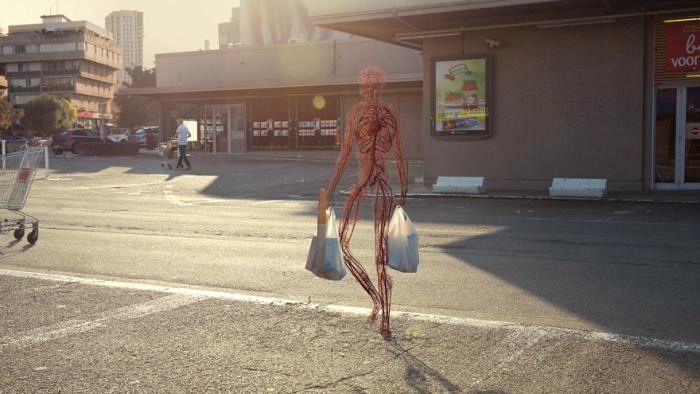 Human After All is the visual art collaboration between Polish photographer Jan Kriwol and London-based digital artist Markos Kay. Kriwol is known for creating optical illusion art and conceptual jokes in visual form while Kay, the founder of Epoché design studio, is known for investigating intersections between virtual science and the natural world.
Here, the artists joined forces to explore the topic of humanity at its most vulnerable level, depicting the complex artery systems of our physiology as if they were fully realised people casually going about their daily lives.
Human After All was shot in a number of disparate places across the globe including Warsaw, Grenoble, Tel Aviv, Israel, Berlin, Brussels and Cape Town. The project merges real, everyday environments with 3D computer generated versions of human blood vessels.
Kay and Kriwol seek to open discourse about the weakness of social segregations, that societal differences pale in comparison to the uniformity of our bodies and the vitality that unites us as a species. Beneath our self-imposed parameters lie an immutable truth of life.
"By stripping down the human body to the essence of life, the series aims to challenge notions of boundaries between our bodies and our environment as well as social barriers such as racial and sexual differences," say the creators, "The contrast between the surreal yet natural structure of the of the circulatory system and the mundane nature of its surroundings brings to light the irony and romanticism that is unique to the human condition."
In addition to the images of Human After All, Kay and Kriwol developed a number of animated GIF artworks using particle simulations that show the complexity and delicacy of our artery systems growing even further against the backdrop of drab citified life. This project hammers home the message – peeled of our outward affections and convictions, we are just human after all.