To rethink how buildings are made in an ethical way, the PET Pavilion was created using compressed plastic bottles to form the walls of a huge community structure. Situated in the city of Enschede, Netherlands, this eco-friendly building is the centrepiece of a formerly abandoned wasteland which has recently been transformed into a community-driven public space which drives home an ethos of sustainable and artful living.
PET, or polyethylene terephthalate, is a popular kind of plastic often used for its moisture-sealing properties. It is the material currently used to create the bulk of the world's packaging such as soft drink bottles and other liquid containers. As a non-biodegradable material, PET infamously poses a massive risk of pollution to nature as it is often caught in the digestive systems of various critters. Now, a certain community in the Netherlands have turned the PET plight into an architectural feature with the Pavilion project.
Over the course of four years, this derelict plot in Enschede has been transformed into a space that complements its surroundings instead of being a vacant, unregulated lot. It features a section of allotted gardens for the surrounding neighbourhood and exhibition space for local art festivals to be held in and around the PET Pavilion itself.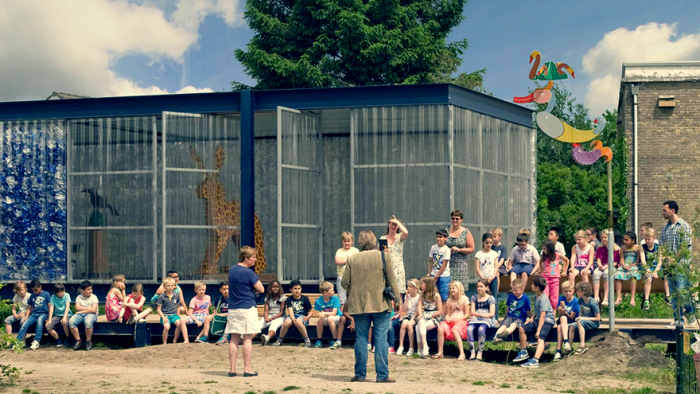 Local authorities came together before the urban makeover started to discuss what the Pavilion would signify and be used for. It was decided early on that awareness of consumption would be at the core of the campaign. The first design of the public hall was slated to be built with reinforced cardboard. However, it was found later on that absorbing a huge amount of PET bottles would be an even more eco-friendly example of responsible architecture, and so bales of discarded plastic bottles were used to build the structure.
During daytime, the PET Pavilion's interior is lit up by the translucent containers with kaleidoscopic colours, giving the community meeting/exhibition/school workshop taking place inside a unique atmosphere. This urban upliftment phenomenon is known in Dutch as "pauzelandschap", which refers to the vacant landscape that is created if official construction plans have been stalled for whatever reason – at which point citizens turn it into a more useful space by themselves.