This year's Nodus rug collection features the original works of a prestigious lineup of designers including Maarten Baas, Matali Crasset and Nynke Tynagel and Job Smeets of Studio Job. Every year the brand comes out with a new range of carpets, and its latest collection was exhibited at 2015 Milan Design Week.
The Italian brand is an extension of Il Piccolo – a family-run company that started out in tapestry but made its name in interior design, working for the likes of Versace and John Galliano. Specialising in high design rugs, Nodus combines its expertise in traditional carpet artistry with the creative visions of selected innovators in architecture and design.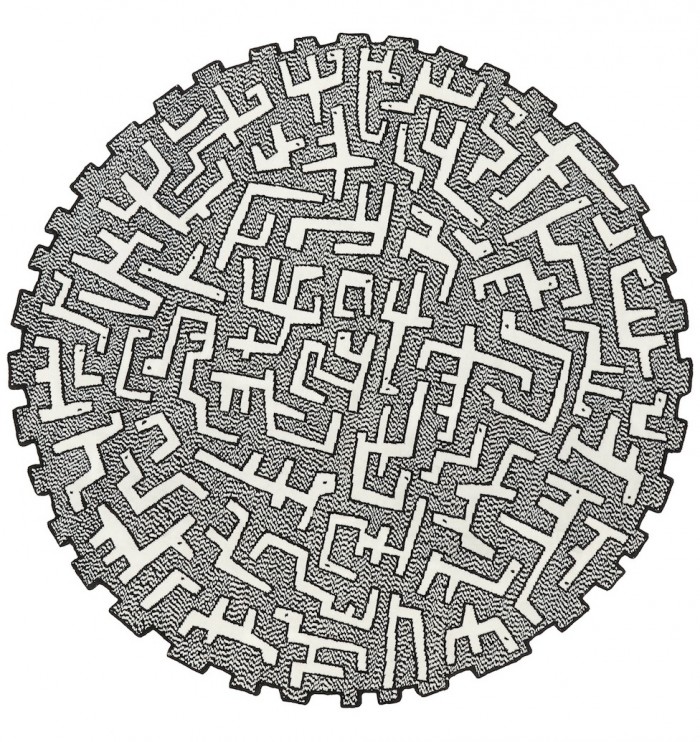 In his first collaboration with Nodus, Dutch designer Maarten Baas contributes a pair of rugs named Ciliophora, which according to Baas are small "living creatures that have lived in the Colombian Andes for many years, under the most extreme circumstances of heat, cold and other threats". The abstraction of the animals in the design creates an almost ancient pattern in both carpets, which are hand-knotted in India from pure wool.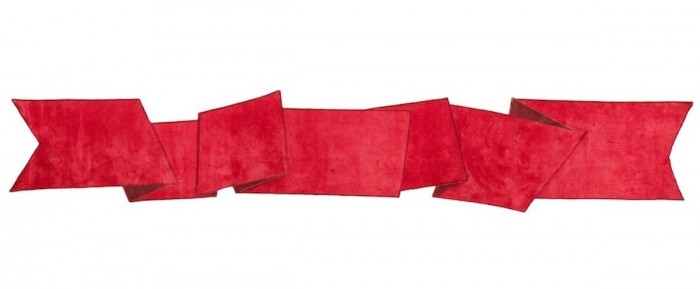 French designer Sam Baron's Ruban (French for "ribbon") rug is "a mix between a ribbon that unfolds on the ground and the traditional red carpet, which gives it a chic, cinematic side". The strip of wool and bamboo silk have been skilfully woven in different shades of red to lend a sense of volume and dimension to the rug.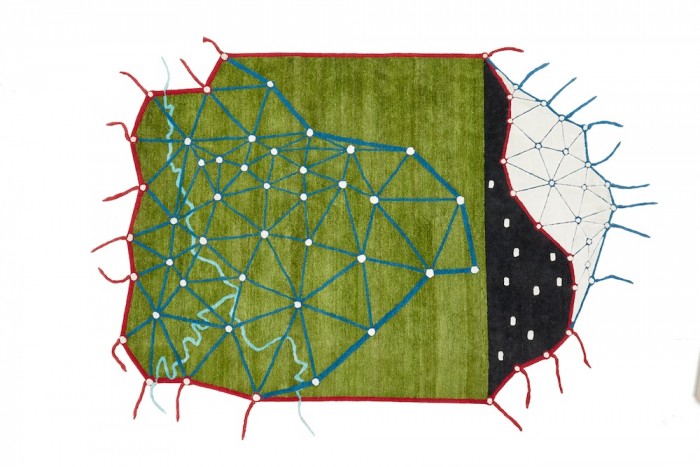 The Topographie Imaginaire rug by French industrial and product designer Matali Crasset was conceived to evoke an imaginary country. The design incorporates cartographic patterning, a clever use of colour that adds dimension and fringing giving the impression that every territory has borders, but the imagination has no such confines. The unique carpet is a combination of wool, bamboo silk, linen and hemp, and was hand-knotted in Nepal.
Giulio Iacchetti's Paesemio rug, meaning "my village", is a poetic representation of urban clusters, villages and dwellings that are very much alike across the whole world. The carpet draws its colour palette from the arid deserts of Afghanistan, where it was also hand-knotted.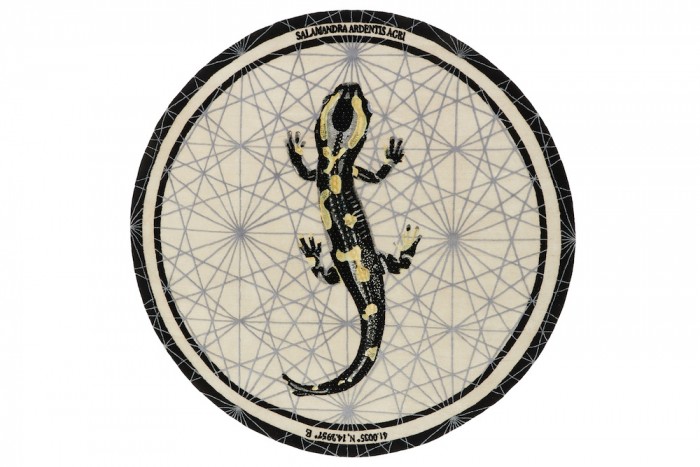 Avante garde design duo Lanzavecchia+Wai present its second collaboration with Nodus: the Mutations range woven from wool and bamboo silk , comprising two carpets, Salamandra Ardentis Agri and Trithemis Ardentis Agri. The concept behind the designs tells the story of the salamander and the dragonfly who live in a large toxic wasteland of southern Italy. Subject to radioactive fumes, the two creatures have succumbed to physical mutations that generate attraction and repulsion at the same time.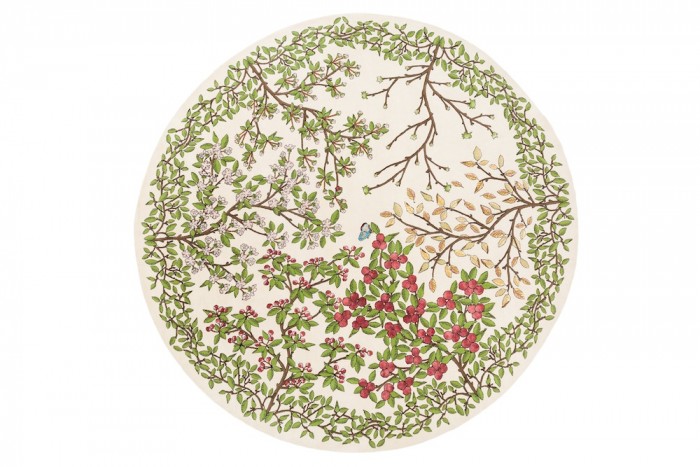 Creative Italian/Japanese pair Minale-Maeda bring two rugs, Transience and Vertigo. The former presents a classical flora scene with branches that represent the incessant change of nature. The latter presents a hypnotic pattern inspired by the reflections and refractions of a precious crystal, and creating a sense of depth in the rug.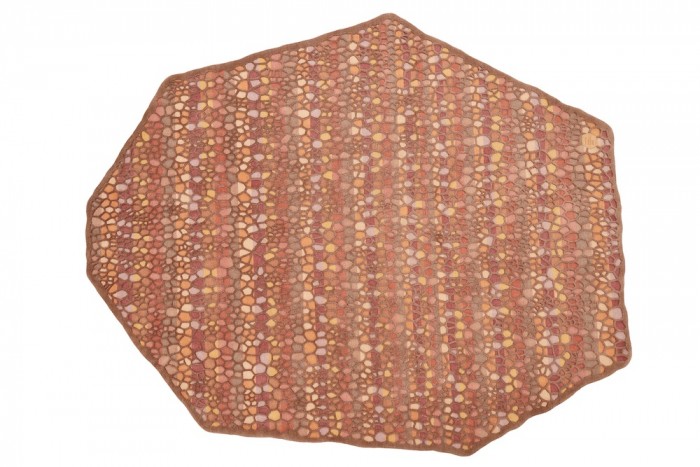 The Day-by-Day rugs by Vienna-based studio Mischer'Traxler showcase the extent of work that goes into them. Every day of work results in a completed line of the rug, revealing the exact number of days required to make it. Each rug is made by one weaver and every piece is as unique as the person who wove it.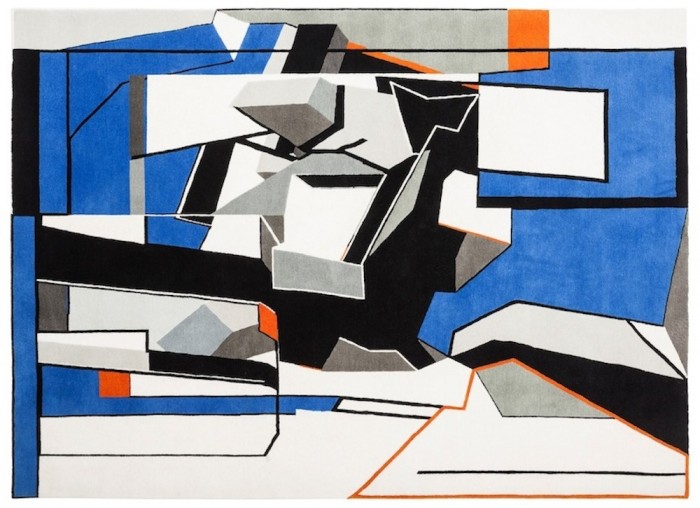 Mexican artist Raymundo Sesma has conceived a collection of five rugs called Noción Transversal. Each design is connected by its geometric aesthetic and differentiated by varying colour combinations. Sesma offers his thought behind the concept: "In this collection of five rugs, geometry is derived from the basic principle of architecture and colour is essential for the construction process of this work in an evolutionary sense."
Studio Job's carpet reflects the pair's belief that life is like a symphony with its highs and lows. Belgian designers Nynke Tynagel and Job Smeets are of the opinion that music is and will always be the most authentic and direct method of creative expression, which is why their Symphony rug features a colourful concerto of musical instruments.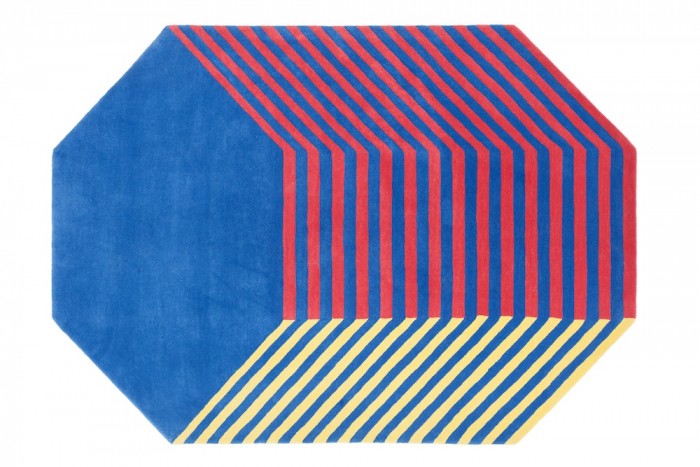 The LEVELS 1 and LEVELS 2 rugs by Sylvain Willenz, an industrial designer in Brussels, are octagonal in shape but use the simplicity of lines to suggest shape and depth. "LEVELS colourfully revisits the traditional rug, cuts its corners and offers a striking yet classic and functional rug," Willenz says.
Watch the Talk with Matali Crasset