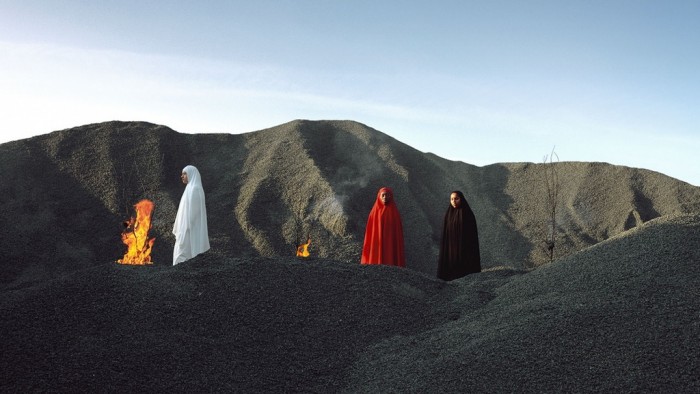 Maïmouna Guerresi - Montagne Nere
There are many who doubt that feminism can truly be inclusive. Throughout history, what it means to be a liberated woman has been shaped by Western ideals of womanhood, erasing the unique challenges that women of colour and minorities face in their daily lives.
Two Goldsmiths University graduates, Loren Elhili and Susanna Pousette hope to challenge narrow conceptions of feminism through a multidisciplinary exhibition called Feminisms x The Arab and Muslim Diaspora.
"Our fundamental aim is for this to be the first of an ongoing series of exhibitions and happenings that explore a multiplicity of different female identities that have felt excluded from feminism in the past," explain visual cultures graduates.
The added "s" in the title, Feminisms has come to represent the fact that "women are many, not a monolith", say the exhibition's creators.
For them, choosing to highlight the Arab and Muslim diaspora was especially important in light of the recent and ongoing anti-immigrant and Islamophobic policies in the United States and the UK.
The two launched a Kickstarter campaign to fund the first iteration of the exhibition. Since its launch on 2 August, it has so far been 63 per cent funded with over 10 days left to go.
If successful, the exhibition will take place between the 24 and 26 August 2017 at Protein Studios in Shoreditch, London.
The show will include film, photography, sculpture, installation and projections from multiple artists including; Maïmouna Guerresi, who explores the Islamic faith as a converted Muslim woman through multimedia works, photographer Yumna Al-Arashi of Yemeni and Egyptian heritage, and Lilly Nejat, a British Iranian artist who explores the ways in which the digital world feeds into our identities.