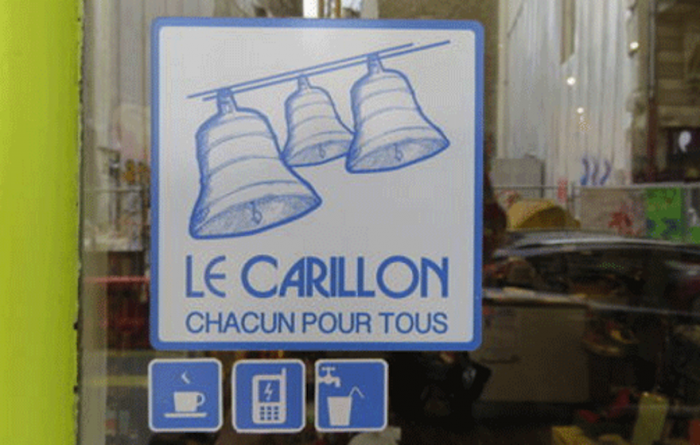 Le Carillon social project
Le Carillon is a Paris-based social initiative that aims to integrate homeless people into society and help restore their dignity. It is made up of a network of traders and businesses in the 11th district that display the Le Carrillon sticker in their storefront windows as well as pictograms that indicate the services available for those in need. The goal behind the network is to change public prejudices about those living on the street by driving a movement that promotes social solidarity.
The sticker used by members of the network features the carillon, a musical instrument made up of bells that each emit a different sound but chime in harmony with each other. This logo was designed to align the project with the principle behind the instrument: using individualities to create a sense of harmony.
The sticker indicates an "open door" but the pictograms on the windows specify what services are available, be it toilet facilities, a glass of water, a phone call or some food. In the spirit of solidarity, these services are offered to anyone, even a student in need of a cellphone charger.
This system is a subtle way of letting those in need know who to go to should they need something without the fear of a dismissive response.
According to marketing and opinion insights group BVA, 83 per cent of homeless people feel the rejection of passersby and shopkeepers. Le Carillon provides a support system that opens the lines of communication between merchants, residents and the homeless, to encourage a sense of community togetherness.