Street vendors are a regular feature on the streets of Kampala, Uganda. Though these micro-businesses are at the centre of controversy in the city, the practice is the only source of consistent income for a large number of Ugandans. Three entrepreneurs based in the United States have devised a way to make this kind of livelihood legal, energy efficient, and profitable.
Musana Carts is a solar powered solution designed specifically for street vendors. According to the initiative, there are around 10 000 street vendors in crowded urban areas in Kampala. Kampala's Central Business District is packed with vendors selling all sorts of merchandise ranging from fruits and vegetables to cooking utensils and clothes.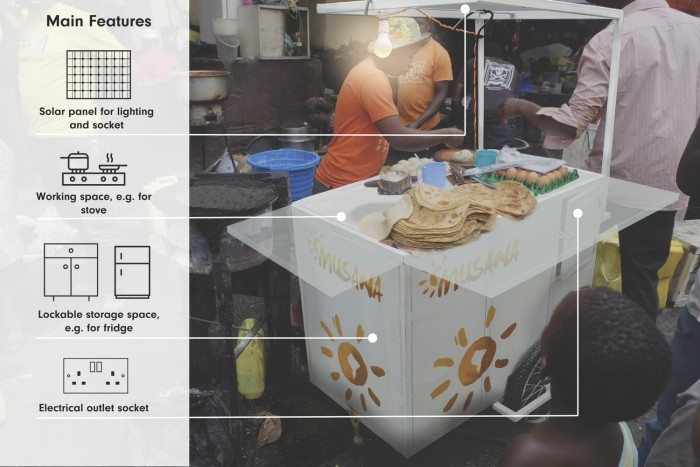 In March, it was reported that the Kampala Capital City Authority (KCCA) would ensure the illegal traders are kept off the streets. This resolution came after shopkeepers complained that despite paying for trading licences, consumers routinely snubbed their products in favour of the illegal traders stationed outside their stores. The Ugandan government ruled in favour of the vendors despite the shopkeepers' concerns.
To change the dynamic, Nataliey Bitature, Keisuke Kubota, and Manon Lavaud created the Musana Cart. The modular cart can be customised to the vendor's needs. It comes equipped with fridges, sockets and mobile money terminals. Charcoal burning is the most common form of fuel for vendors who sell cooked food. Musana Carts come equipped with environmentally friendly eco-stoves which eliminate harmful smoke inhalation and reduce air pollution.
Beyond its features, the Musana Cart equips its vendors with finance and business training and offers a path to legalisation for those trapped in the informal sector.
"We built Musana Carts as the solution to help push them out of poverty and revolutionise their street vending enterprises," writes the initiative. "We want to design an easy to use cart equipped with the best features on the market that is completely self-sustaining through the use of solar panels."
The team have launched a crowdfunding campaign to help finance their initiative.