When Italian designer Stefano Giovannoni designed the Bombo Stool, he cast a spell over the design world and created a new typology for seating design.
Produced for Magis and launched in 1999, the stool remains a best seller – manufactured and sold on a mass scale by the brand. Nowadays, Giovannoni's innovative design is repeatedly imitated and knocked off: cheap copy-cat versions of the stool by Chinese production companies marketed under a different name abound.
A popular staple in bars, hotels, homes, restaurants and stores around the world, the Bombo Stool design achieved instant critical and commercial success and has now become a classic.
The stool's ubiquity may have dulled our senses a bit, as any endlessly reproduced piece of design can do, but it became a sensation because it redefined how a bar stool could look. Its chrome steel base and injection-moulded plastic seat married slick, streamlined styling with an eccentric shape, rising up out of the floor in one continuous form like a tulip. Its futuristic sensibility led to its use on the sets of two "Star Trek" television series and the movie "Lost in Space".
"Design must sign its own time. Therefore on one side it has to be up-to-date, while on the other side it must have a strong emotional and sensorial appeal so that it can easily be an object of desire for the public. From my point of view, an object that doesn't satisfy these aspects is not a good product," Giovannoni said in an interview with Designophy.
He is a firm believer in commercialising his design products, making them widely available to his audience and geared for mass production. The long list of products he has designed – from phones and toilets to cars and watches – has bridged the gap between elitist design and design for the middle-class masses.
Giovannoni's body of work is playful with inspirations ranging from science fiction and cartoons to the "radical architecture" that emerged in Italy in the late 1970s. He created brand-defining products in Alessi's stable: quirky objects for the home such as the "Merdolino" toilet brush for Alessi that looks like a plant, and his "Orientale" series of functional home products (such as salt and pepper shakers) that resemble toy figures.
Watch the Trailer with Stefano Giovannoni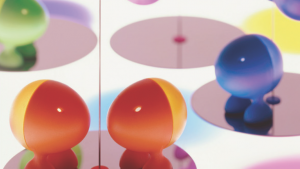 Trailers
• Duration: 00:01:22
•
9 Jul 15