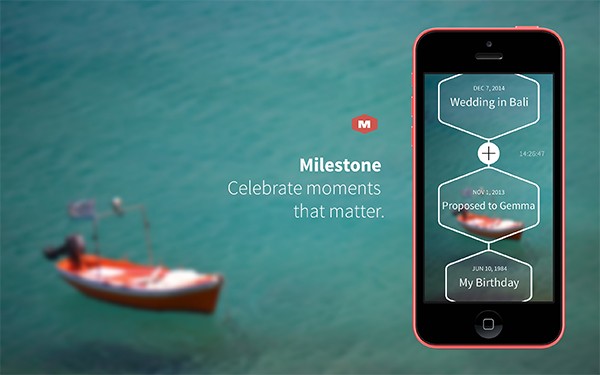 Milestone app by Marcel Wanders.
Celebrating moments that matter, Marcel Wanders's Milestone app helps you capture celebratory moments and observe them in a special, unexpected way.
The free Milestone app for iPhone is an instrument for measuring the unfolding of your life. The app's main function is to make a visually-engaging, personal countdown clock that encourages people to chronicle how long ago – or how long until – a meaningful moment occurs, or has occurred.
Through a simple and intuitive interface, Milestone gives users the ability to capture and cherish personal moments in a typically wild and wonderful Wanders way.
Measuring special moments in terms of seconds, minutes, hours or days gives a new perception of time. Marking significant occasions becomes a personal experience, which you can share with another, and with groups of people through social networks, says Wanders.
Users can mark and share the number of seconds since they quit smoking, the number of minutes since their first date and even the number of minutes until their next vacation.
Wanders launched the Milestone app just days before the opening of his Marcel Wanders: Pinned Up at the Stedelijk – 25 Years of Design exhibition, the largest-ever survey of the Dutch designer's work, which opens on 1 February 2014.
Watch the Talk with Marcel Wanders