Artymiss design studio is the result of Capetonian Pauline Irvine's longstanding dream to establish a career in paper design. Her love of stationery and paper set her on a mission to create extraordinary paper artwork.
Renowned for quality and attention to detail, Artymiss teams great design with laser-cut technology to create truly unique pieces.
We caught up with Irvine to find out a bit more about her inspirations and preferred techniques:
What inspires your work? 
My inspiration for the cards draw on many different things. I have always loved and collected beautiful stationery, which has allowed me to develop a bank of inspiration over the years.
I keep myself inspired by constantly trying new ways of working with paper. I am increasingly interested in making cards with a three-dimensional effect, and constantly trying to learn new methods and techniques for this. I recently completed a course in making pop-up books at Central Saint Martins in London, and look forward to introducing a pop-up element to some cards.
Furthermore, I look to amazing paper artists like Rob Ryan and Peter Callesen for inspiration. 
How did Artymiss come about?
From an early age I wanted to have my own stationery range. Since I was young, I always loved making things with paper - from folders, to boxes, to bookmarks and all sorts of other paper creations. My interest in paper cutting developed later on when I studied graphic design at Stellenbosch University. We were encouraged to experiment with all sorts of artistic techniques, and here I became interested in using paper cutting as a form of illustration. These two interests merged and Artymiss was born!
What does your creative process involve?
In the design phase I make as many mock-ups as possible. This allows me to experiment with what works best for three-dimensional designs, and to play with the effects of light and shadow.
Do your designs follow a theme of any kind? 
Not necessarily, but I do often like to draw on local subject matter.
Do you work with collections or rather individual pieces?
Both. Often a design starts off as an individual creation and the inspiration following it becomes a theme, and then the theme turns into a collection.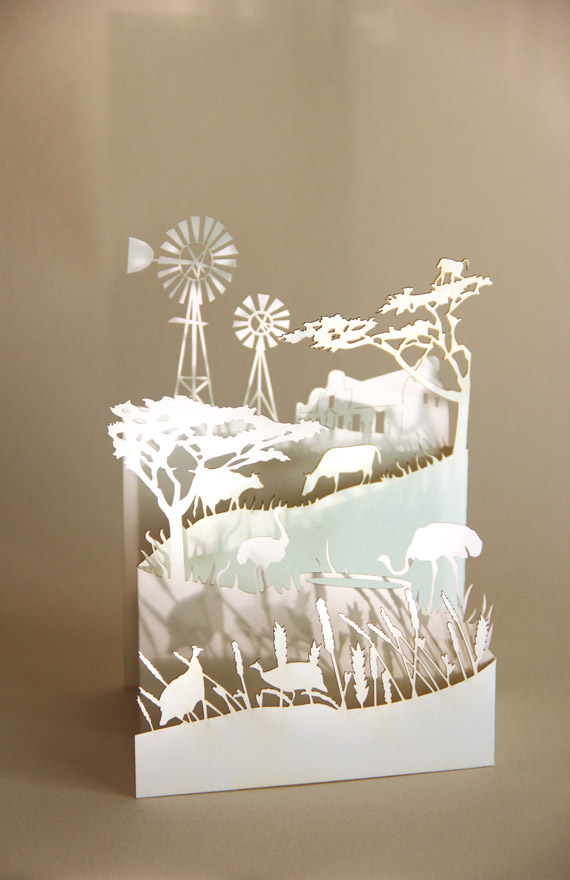 What materials do you work with and prefer to work with?
In the designing phase I use paper and a craft knife. When the design is finalised I have the cards laser cut.
Can you tell us a little bit about what you are currently working on?
I have recently completed a range of African inspired Christmas cards and gift tags. I am currently working on several custom corporate Christmas cards.
Artymiss will reveal a new collection, not to be missed, at Design Indaba Expo 2013.