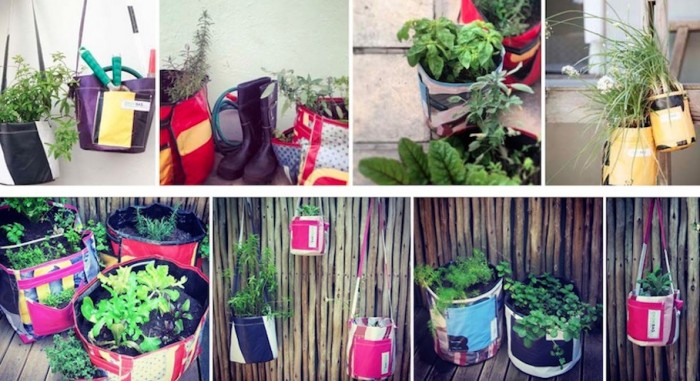 A variety of GROWbags. These environmentally friendly planters help low-income communities grow their own food.
In light of our 2015 campaign, #Make. Change., we look at three innovative solutions to problems that many South Africans face. In this roundup, we feature a design that addresses the dual issues of waste and a sustainable lifestyle, and two projects that provide an alternative energy supply with solar-powered technologies.
GROWbag
Cape Town-based organisation GROWbag is making waves with its environmentally friendly planters.
The discarded billboard vinyl, from which the planters are made, is combined with a special wax coated polyester thread to create planter bags in varying shapes and sizes. The combination of materials ensures that each bag is not only 100% recyclable but durable in all weather conditions.
Each GROWbag is unique and has a different story to tell: the organisation's skilled producers carefully select the image and colour making each bag a one-of-a-kind planter.
Along with empowering its staff members and creating jobs, GROWbag has collaborated with non-profit organisation Soil for Life. Soil for Life envisages a green city where all people have access to sufficient, safe nutritious food by growing their own vegetables. To that end, GROWbag has created a series of planters to help low-income communities grow their own food. With every GROWbag purchased, the organisation donates a portion of the sale to help fund planters for families in the communities where Soil For Life is active.
The Lightie

South African entrepreneur Michael Suttner likes nothing better than finding solutions to real world problems. After discovering that two billion people globally are forced to live in complete darkness, he set out to create a simple solution – The Lightie solar bottle light.
The Lightie is considered to be the world's first solar-powered light bulb. A state-of-the-art flexible solar panel is fitted tube-like into any standard soda bottle to create an innovative alternative to light bulbs dependant on electric grids. The low-cost and durable product aims to provide light to communities in developing countries for $10 a bulb.
This product can change the way Africa receives light, says Suttner.
When placed in the sun for eight hours, The Lightie is able to provide 40 hours of light. With three settings, owners are able to control how long the light shines: "high" provides 20 hours; "medium", 30 hours; and "low", 40 hours.
Khaya Power

Khaya Power's aim is simple: powering Africa by empowering the people of Africa.
As many communities still rely on using fossil fuels that are inefficient, unhealthy and costly to light their houses and cook their meals, the South African energy business has tasked itself with providing households in informal urban settlements and rural villages with access to low-voltage power.
To achieve this, Khaya Power has developed the Juz Box which is a low-voltage power pack consisting of the necessary equipment needed to generate solar power and recharge batteries. Communities are encouraged to buy these packs and distribute low-voltage electricity to residents at a small fee. This in turn creates financial solutions and encourages communities to grow their economies and empower themselves.
Households are given a Juz Box – essentially a large battery that powers small appliances such as cooking and heating devices. These batteries can be recharged at a small fee with solar-powered generators.
Khaya Power relies on a franchised business model where communities can manage how the service is sold. Depending on how the community would like to run their own model, low-voltage electricity can be sold as a "pay as you go" option or through monthly subscriptions.