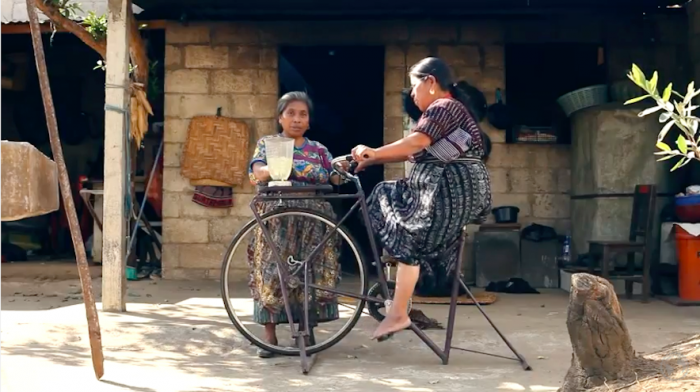 Bicimaquinas by Maya Pedal
Bicimaquinas are bicycle-powered machines used as an informal, low-tech substitute for instruments that require electricity, which is too costly for most living in the eastern district of San Andrés Itzapa, Guatemala.
Produced by local non-profit company Maya Pedal, the bicimaquinas are made up of old bicycle frames and transformed into all types of devices from blenders and pumps to milling machines and trailers.
Many people rely on the makeshift machine to provide a source of income for families. Making a sustainable contribution to the community, the machines have been known to serve owners for fifteen years and when they come to the end of their lifespan, they are either repaired or replaced.
Maya Pedal founder Mario Juarez invented the bicimaquinas to reduce physical labour and increase productivity without need for electricity. When Juarez initially approached the community, locals were sceptical and sought out more high-tech solutions to their problems. They come around when they realised that the Bicimaquina is a sufficient tool that can be adapted to their individual needs.
The non-profit works out of a workshop where locals and volunteers build bicimaquinas from donated bicycles, and locally sourced materials. Bike repair services are also offered to locals, and if a bike is deemed fixable, the workshop will revive it and sell it.
What started out as an innovative hack has now become an integral component in the local community. "They free the user from rising energy costs, can be used anywhere, are easy to maintain, produce no pollution and provide healthy exercise," says Juarez.
More on reinventive design:
Informal settlements in developing countries have to rely on open wood and charcoal fires or paraffin stoves to prepare their daily meals. There are a number of problems associated with these methods of cooking including fire hazard risks, rising deforestation and health issues related to excessive smoke inhalation.