Picture this: It's Thanksgiving morning and suddenly your child falls ill. Your first thought is the flu, but when you visit your local paediatrician, she breaks the news that your child is suffering from Type 1 Diabetes.
This is not a made up or fictional story. This is what Dr Vivienne Ming and her wife Norma Ming went through with their young son, Felix. But what makes this story different is that Ming, a theoretical neuroscientist and technologist, decided to take matters into her own hands.
From doctors visits to doctors' orders, Ming and Norma were not satisfied with the information given to them. They decided to begin work on their very own AI that would be built to treat diabetes, and that's how Jitterbug was born.
What started out as a learning system to monitor their son's diabetes developed into so much more. But its development was not all smooth sailing.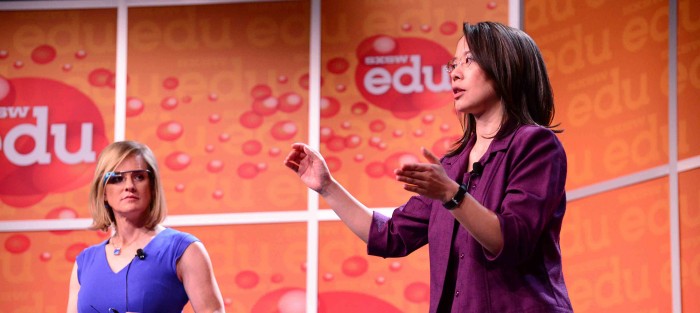 They started collecting their very own data by recording everything their son would eat, any activities he would do, what his blood glucose levels were, what emotional states he would be in, and they even built a small cyborg - containing Fitbits, Basis Bands, wireless insulin pumps (PDM), and continuous glucose monitors (CGM).
In a diary piece she wrote for Aspen Ideas Festival (AIF), she revealed that they would collect thousands of data points daily on their own. But when it came to the cyborg most of the data captured was recorded by various wearable devices. Ming was not able to access this data.
"Not one of those companies allowed me to directly access the data that was literally coming out of my son's body. So I hacked it," she revealed on Aspen Ideas Festival.
"In fact, if you go online you can find open source code for almost everything. For example, with a little python code, a couple of USB cables, and an old android phone, I was streaming data off of my son (including FitBits and Basis Bands) to a server I set up to monitor him in real time."
Once she got this information she began developing the algorithm that evolved into Jitterbug, a new AI model.
At the beginning, Jitterbug was designed for parameter settings only, involving carb ratio and correction factors on her son's pump. As it developed, it was able to predict whether her son's glucose levels would be high or low three hours before the change occured. Jitterbug is also able to make predictions on when the insulin pump would need to be updated.
The time Felix spent with high glucose levels dropped by 40 per cent, thanks to the new system.
Now if you are wondering why you have not seen Jitterbug on the market yet, according to Ming, many doctors and companies view Jitterbug as an illegal tool that is inadequate to give any medical advice.
Ming hasn't been deterred though. She went on to gather all their recorded information and donated all the codes to the TidePool Foundation, which is a non-profit that builds open source code for diabetes. They're known for collecting data from diabetes devices and researchers.
"It was also wonderful to hear diabetes device-makers announcing this year that their systems were finally making blood glucose level predictions. It only took 4 years and $40 million more than it took me," she said.
Although this was one of the first AI systems she worked on, since then, Ming has gone onto expanding even further through her company, Socos, which she co-founded with her wife. The company was created as a way for Ming to combine her varied work experience with other creative experts. Her research focuses on overcoming challenges in education, the workforce, and health.
Some of Ming's work under Soccos involves projects like Gild, which tracks bias in the hiring process. This algorithm found and corrected some regular occurances in the employment screening procedure. For instance, the fact that candidates who did not attend prestigious schools were often overlooked, could be rectified. Gild also teaches applicant skills to candidates, which will improve their chances for future jobs.
Socos Learning is another project Ming has been working on but unlike Gild which collects data from adults, Socos Learning focused on collecting data from kids. The data they collected came out of drawing and speech patterns, in which the results are used to make predictions of the kids' life outcomes.
This AI system was created to prepare the parent for the child's future, whether it be negative or positive but giving the parent time to plan.
See what other projects Socos is working on.
Read more:
Inclusive AI can be both good and bad, says the Poet of Code
On designing spaces with people's mental health in mind
Sneha Suresh on using visual communication to transcend text