"What you call a slum, I call my home," is the striking message that Urban-Think Tank presents in their latest exhibition that showcases a possible housing solution for informal settlements in South Africa.
Alfredo Brillembourg and Hubert Klumpner, along with their research and design teams have partnered with South African NGO Ikhayalami to establish an alternative approach to dealing with urban informality, which is unsustainable and slow in meeting the immediate needs of the vast majority of South Africa's urban poor.
The Empower Shack exhibition is aimed at developing an innovative, replicable, affordable and sustainable shack prototype for Khayelitsha, Cape Town, the third largest informal settlement in South Africa. The exhibition makes use of film, photography, drawings, paintings and large-scale architectural instalments to explore the complexity of living conditions in informal settlements, and the social role of architects in helping to address the economic, ecological and security challenges residents face.
Empower Shack aims to answer the question: Can art and architecture lend a voice to segments of the population that go unheard?, says Brillembourg.
The examples featured in the exhibition look at ways in which immediate strategies can be employed in areas that lack formal structures as well as empower local residents to engage and take part in changing their immediate surroundings in a sustainable way.
The future of urban development lies in collaboration among architects, artists, private enterprise and the global population of slum-dwellers, adds Brillembourg.
Empower Shack is on display at the Galerie Eva Presenhuber in Zurich, Switzerland until 10 May 2014.
Watch the Talk with Alfredo Brillembourg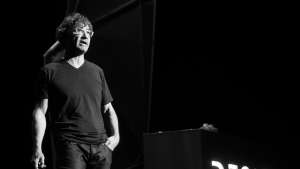 Talks
• Duration: 00:43:27
•
11 Nov 16