Mary's Meals is a feeding scheme based in the UK that currently provides daily meals to 1.1 million school children in some of the world's poorest countries including Malawi, Liberia, India, and Haiti. Like most nonprofit organisations, Mary's Meals relies on the goodwill of the public to fund its operation. By teaming up with London-based marketing agency Earnest Labs, Mary's Meals launched a way to make a small donation through a contactless payment terminal called Lunchbox. The device enables those buying lunch in the city to donate to charity, quickly and easily using their contactless card or smartphone.
"While there has been a 306.8% increase in contactless payments in the UK over the last year, we think it's about time the world of donations moved on from change in a bucket and being hassled while you do your shopping," says James Wood of Earnest Labs. The device was launched on 3 May 2016. It aims to facilitate spontaneous generosity in a no-pressure environment by placing the Lunchbox terminal at the point of sale in general stores, cafes and restaurants.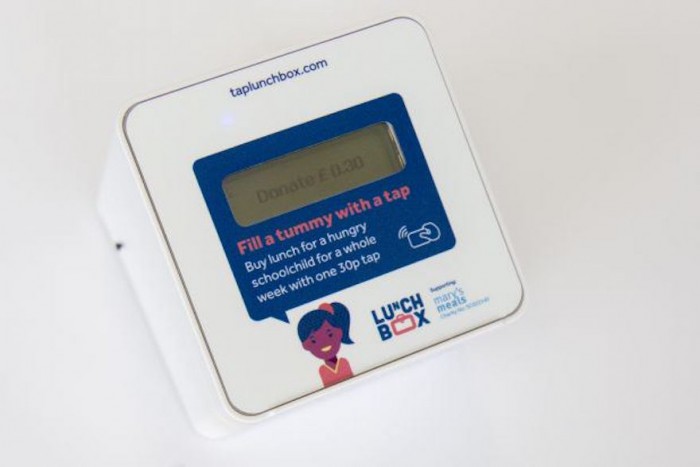 "It's amazing the ways that people are inspired to reach out to the world's poorest children through our work. This innovation uses some of today's best technology to allow people with busy lives to make a real difference in the world without having to set aside time to do it," says Alan Brown, Executive Director of Mary's Meals UK.
"We're incredibly grateful to Earnest Labs and all the London vendors who are already on board. Together we can support the world's poorest children to achieve their full potential and help lift their communities out of poverty."