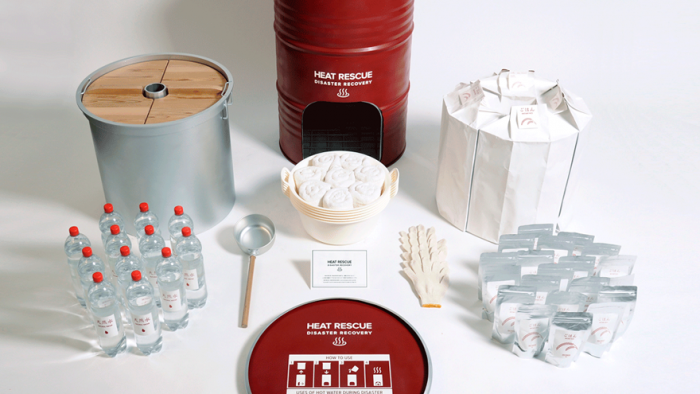 The Heat Rescue Disaster Recovery kit is the brainchild of experience designer Hikaru Imamura. It is a compact set of tools that alleviates the pressures of survival following a large-scale emergency. Heat Rescue contains practical utilities housed inside a cylindrical drum which turns into a heat-bearing stove once unpacked of all its crisis provisions.
The Design Academy Eindhoven graduate gained inspiration for this constructive design after Japan's earthquake crisis in March 2011 which left thousands stranded in the wake of the tsunami devastation and the nuclear emergency that followed. Imamura wanted to address the experience of the displaced, bringing together the rudimentary tools for individuals to look after themselves temporarily if first responders fail to reach them quickly.
The Heat Rescue Disaster Recovery kit is an exercise in creative pragmatism – no futuristic technology or high-brow concepts are deployed here, instead, Imamura sought to answer the most basic needs for survival as practically as possible. The crimson container is a regular oil drum which can be transported easily and reused once crisis conditions have subsided. It provides portable warmth and the facility to cook food. Each unit houses a large supply of water suitable for cooking or drinking, fuel to make fire, a cooking pot and packets of freeze-dried rice with visual instructions on how to disassemble and use the survival tools.
"When houses have been destroyed through disaster, we will have to be housed in refugee-camps, possibly for as long as several months, until temporary houses are built," says Imamura, "In such harsh condition, people are more likely to become ill, due to the mental stress and exhaustion encountered. Therefore, warming your body, as well as having access to hot meals, can provide mental encouragement.