Central Saint Martins Material Futures graduate Tina Gorjanc's latest project is not for the faint hearted. It's called The Great Passenger Pigeon Comeback, and it focuses on the re-creation of an extinct species that was endemic to North America.
The project looks at the cultural implications of the synthetic creation of biological matter, i.e. De-extinction. It does this by creating a speculative world, one that explores the intersection between practices such as laboratory work, museum environment and a luxury artisan gloves workshop.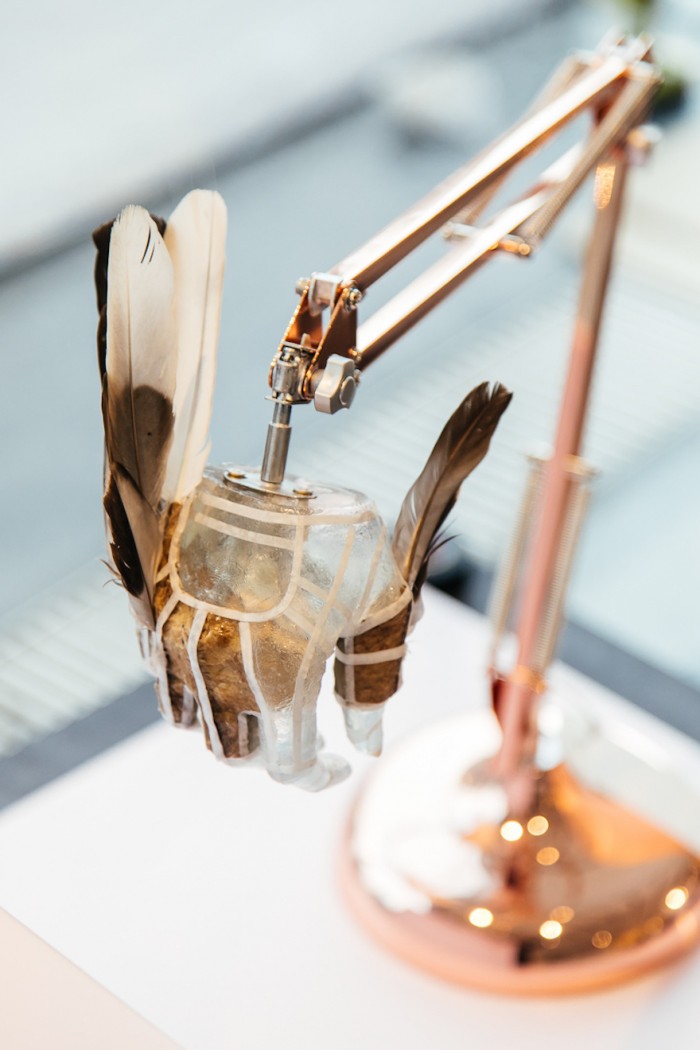 She writes: "It tackles the ethical and philosophical dilemmas concerning our fascination with producing new replacements for extinct or endangered biological matter and their application in our current world."
This, she says, is endemic of our fascination with constant innovation. The project asks a speculative design question: How will this push to systematically revolutionise us as a society?
The project was developed as a commission from the Science Gallery Dublin, part of the Trinity College Dublin in collaboration (based on the research) with the organization Revive & Restore, California.
Revive & Restore are currently building a genetic rescue toolkit for conservation in order to one day save the coral reefs from global warming or restore the population of horseshoe crabs that are bled for pharmaceutical products.
They hope to use advancements in synthetic biology to fulfil this mission and are currently in the process of raising capital for a Catalyst Fund of $2 to $5 million in order to drive the needed scientific breakthroughs.
Watch the making of the project below:
Gorjanc is well known for her approach to speculative design futures. In 2016 her project "Pure Human – Embodied Luxury" pushed the definition of luxury in the design industry and criticises the current legislation on biotechnology which until now, only focussed on medical procedures.
The Pure Human project uses recent developments in tissue engineering, in which scientists are able to grow human skin in a laboratory. Genetic material is extracted and placed in a cell culture, then the cells are harvested and skin tissue is tanned and processed into leather.
She designed a line of future commercial leather products cultivated from extracted DNA of Alexander McQueen. The products in the human skin collection include a tanned bag, a freckled backpack and a tattooed jacket.
Gorjanc shows how genetic information can be seen as a source of luxury but also points out how easily a person or corporation can claim ownership over biological material, highlighting a concern about the protection of biological information.
Read more on speculative design:
This speculative project seamlessly collects water from the air around it
Sebastian Gier's futuristic Xplore project nominated for Dezeen Award