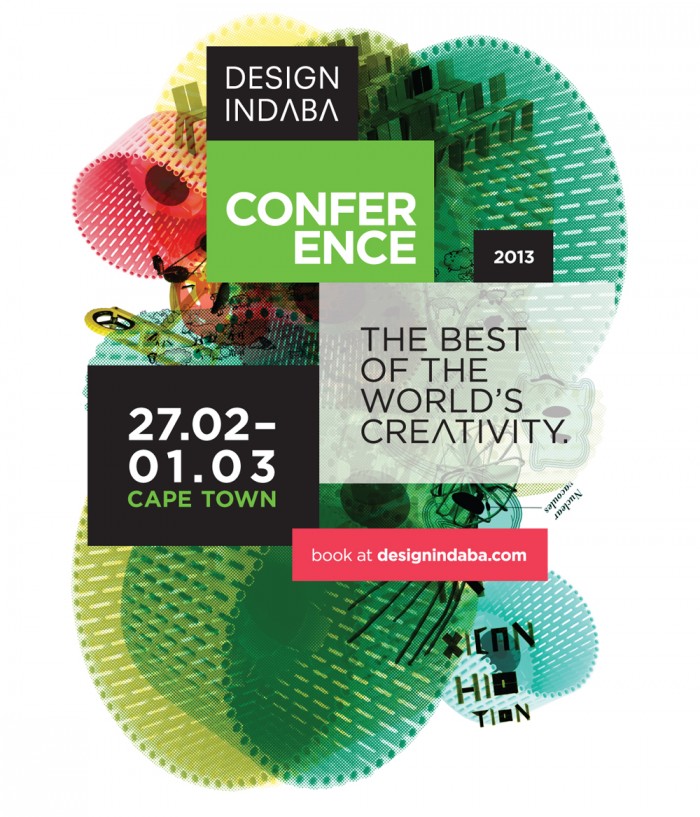 The one thing I always take away with me is hope for the future. For my children, for our industry, for our planet and our very humanity.
The speakers at Design Indaba are carefully chosen to challenge conventional thinking, to push boundaries, to inspire.
I always tell people going for their first Indaba not to judge too quickly, to listen to speakers in fields that are not their own, to keep an open mind, not to make too many meetings at or outside the Indaba, but to immerse themselves in the experience.
And I tell all my clients, no matter what industries they are in, that they have to experience a Design Indaba at least once. It will change the way they think about their own business and industry.
These are our best Design Indaba moments of 2013, the speakers who challenged us and inspired us…
We need to be prepared to hack reality
Dutch artist, innovator, interaction designer, Daan Roosegaarde, was TREND.'s best speaker at Design Indaba 2013. He received a standing ovation after his presentation of his sustainable, futuristic and fun solutions, like the touring colourful club dancefloor that produces energy when people dance on it; his Dune
lighting system which interacts visually and with sound with passersby, transforming dark community spaces into tactile, interactive destinations. His glow in the dark paint for highways, which recharges during the day to light up the highways at night; or makes snowflakes appear when the temperature drops to warn motorists of slippery conditions, is being trialled with a roads agency.
Thinking about the interactivity that technology allows and sustainability, should be part of the default setting for designers, he says.
"For me it's about techno poetry, rethinking life… We should create more types of co-creations. Reality is beautiful, amazing, but we should be ready to go out there and hack it, to use our imagination to make things."
Steal when it's appropriate
Graphic designer and founding partner of Push Pin Studios in New York, Seymour Chwast (81) is the antithesis of conventional design. His presentation at Design Indaba 2013, entitled 'God. War. Sex' on his career to date, dealt with hell, a favourite subject of his. Hell is a high rise building, for those of you who didn't know, and the penthouse is reserve for email spammers, which, according to Chwast's word, are the worst sinners. He only steals ideas when it's appropriate: "I have integrity."
Good design is timeless
Seymour Chwast draws every day. He can't help himself. From hell to God, to erotic shoes, he draws everything. His favourite tool is a pilot pencil, he doesn't have "the nervous system for watercolours".
The artist has to decide who to serve
Within the complexity of our environment, how can I be an instrument to collectively reimagine our daily environment? This is the question that artist and interaction designer Jeanne van Heeswijk, from The Netherlands, considered in trying to decide how to use her skills as an artist to improve communities. She embeds herself in communities, from Rotterdam to Liverpool, for years at a time, working with them to save their culture, improve their neighbourhoods and empower communities to design their own futures, not wait for them to be foist on them by local authority urban planning schemes which rarely take embedded culture into account, particularly in underprivileged areas.
"Communities need to start co-producing their own futures,. Most of my work is unravelling the invisible legislation, codes of government and social institutions which slowly prepare areas for their predictive futures."
She calls it "radicalising the local" by empowering communities to become their own antidote.
Design shouldn't be afraid to tackle big messy problems
Can design save the world? This is the question that Canadian design strategist Michael Grigoriev asked during the Pecha Kucha session. He undertook to make sense of all the trends, statements and methodologies advocating meaningful change and make sense of the information. The idea is that collectively, we are far more intelligent – based on our diversity and shared knowledge – than any single expert.
Grigoriev asks how we could aggregate that intelligence and create conditions and the right environment to tackle problems. He found that people have to care about something in order to participate and the tools of engagement have to be ones that people are comfortable using. "With our collective intelligence we make tons of new content… we can only tackle our biggest problems of our time, collectively. Design should not be afraid to tackle big messy problems. Designers need to start engaging with problems and tackling those problems and creating meaningful change. There are no more excuses. People are already sharing, we now only need to push it through to meaningful change."
Creativity isn't an occupation, it's a pre-occupation
Keynote speaker, Sir John Hegarty, creative director and founder of Bartle Bogle Hegarty (BBH) advertising in the UK, says: "Creativity isn't about predictability – it has to surprise and challenge, it has to be daring and yet motivating. Creativity is a manic construction of absurd, unlikely irreverent thoughts and feelings that somehow, when put together, change the way we see things. That's why it's magic."
As society constantly changes and as brands and products constantly innovate, it becomes the responsibility of the creative person to capture the essence of that change and the opportunity it offers, he explains.
And on ideas: "The greatest spur to creating ideas is confidence, specifically the confidence in your ability to make magic. That's the one truth a creative organisation must hold on to."
Misbehave.Often
What is creativity, but a small, defiant act of misbehaving, Pentagram partner and graphic designer, New York, Paula Scher, told the assembled delegates. We misbehave, Scher says, when we find ourselves in situations we are uncomfortable with, or are trapped, confined, or searching for something, or just carrying on. She keeps looking for ways to misbehave in design, to challenge the conventional and sidestep protocol. She is renowned for her map designs.
Fake it!
Sometimes you get up and you aren't talented that day. Fake it, says Paula Scher! "Repetition can be a creativity killer. One needs to try look at things differently, challenge yourself. "It is hard to rebel against yourself, it is hard to recognise your own stupidity."
Do the hard work to make it simple
"Making something look simple is easy; making something simple to use is much harder, especially when the underlying systems are complex, but that is what we should be doing, says Ben Terrett, head of design at the UK Government's Digital Services, Cabinet Office. "With great power comes great responsibility – very often people have no choice but to use our services. If we don't work hard to make them simple and usable, we're abusing that power and wasting people's time."
His core responsibility is merging and redesigning over 2000 UK government websites into one: Gov.UK.
Build for inclusion
Accessible design is good design, says Ben Terrett. "We should build a product that is as inclusive, legible and readable as possible. If we have to sacrifice elegance, so be it. We should be afraid of the obvious, we shouldn't try to reinvent web design conventions and should set out our expectations clearly."
Synthetic biology – the design discipline of the future?
London-based artist, designer and writer, Daisy Ginsberg raised more questions than she provided answers in her provocative talk on synthetic biology
and how disruptive it should be in not only solving problems, but making better products and using it in an ethical way to solve the world's problems, like food shortages, materials and fuel. She has discovered that it can be "deliciously ambiguous" as a science when designers and scientists work together to reimagine new ways of creating things.
"The impact of synthetic biology may well be scientific and economic. But we think it will also be social, cultural and political." She is convinced we are still asking the wrong questions in this field. "By asking the right questions, we will have problems to solve that are better. Science shouldn't be separated from the humanities. I'm trying to open up this space for lots of other designers to experiment… I'm challenging the fundamentals of science."
Headline sponsors for Design Indaba are Woolworths, Absa, Dstv and MTN.
*Louise Marsland is the Publishing Editor of TREND.
Watch the Talk with Alexandra Daisy Ginsberg
Talks
• Duration: 00:31:51
•
10 Mar 14