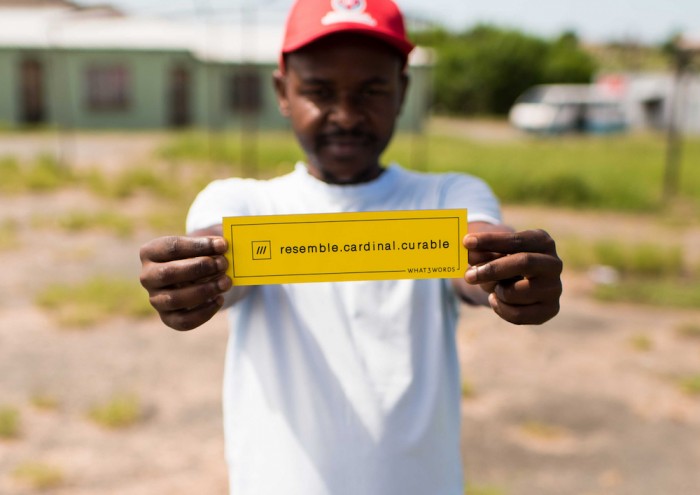 What3words at Index 2017
There are around 4 billion people living without addresses in the world. This means no bank account, no deliveries and no mail. What's more, how do you tell a government department where electricity or water infrastructure is needed if you have no way to accurately describe your location?
Developed by UK entrepreneur Chris Sheldrick, what3words divides the world into 57 billion 3 metre by 3 metre squares. Each square is tagged with a unique sequence of three words, meaning each square can be located from anywhere in the world even if it's remote and even if there are no roads or house numbers.
Earlier this year, Sheldrick exhibited the system's purpose in Durban, South Africa. Working with South African NGO, Gateway Health, what3words provided addresses for the entire community in the informal settlement of Kwandengezi. The addresses ensure that emergency service can easily reach people who need help because now, instead of sending them to the general area, rescue workers can be directed straight to the person in need's front door or back garden.
Speaking at Design Indaba Conference 2017, Sheldrick said it's the simplicity of the design that makes the difference. "Design is all about simplicity, making things elegant and easy. If something can be so good that anyone from a child to a grandparent can use it and it feels intuitive, then for me that's good design".
It's this same simple, practical impact that landed what3words the prestigious INDEX: Award 2017. The awards, which are based on the United Nations' sustainability goals, is one of the most coveted in the design industry.
"On a universal level, What3Words was designed to bring people closer together, by driving a universal, global community," says Index. "Regardless of an individual's socio-economic status, race, gender, etc., the platform ensures that they will be recognised, identified, and found."
So far, what3words is being used by the postal services of Mongolia, Djibouti, Tonga, Saint Martin, and Côte d'Ivoire, with many more – including developed countries – likely to follow. 3 word addresses are also being used by the UN, the Red Cross and emergency response and humanitarian organisations around the world.
Watch the Talk with Chris Sheldrick
Talks
• Duration: 00:19:31
•
19 Jul 17