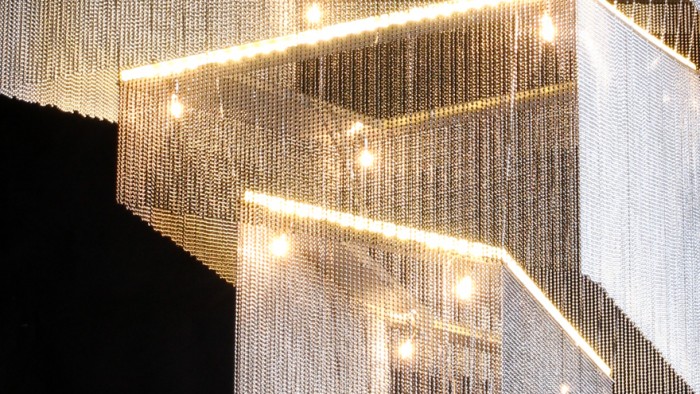 Geometric Storm by Willowlamp.
With its shifting shapes and changing silhouette, Willowlamp's latest chandelier, Geometric Storm, signals an interesting new direction for the brand.
Since 2005, Willowlamp has been creating hand-crafted, sculptural pendant lamps and chandeliers, using its patented technique for joining laser-cut metal and ball chain. With this simple but innovative method of connecting points via flexible strands, designer Adam Hoets is able to create a bewildering variety of designs ranging from nature-inspired shapes to dramatic op-art curves and parabolas.
Hoets, a trained architect, examines the spatial relationships between quadrilaterals and cubes in the new chandelier, which won Best Lighting Design Award at the recent 100% Design South Africa. This is definitely "higher-grade" geometry. The positioning of the edges and corners of each successive tier at an angle to the one before creates a series of sheer planes, each of which can move independently of the entire piece. This motion, in combination with the geometric plains formed by the walls of chain, gives the impression of shifting or flattened perspective.
The architectural influence on this particular design is undeniable – its shifting dimensions projecting downward recall a towering city block reflected on the water. Hoets also shows his talent for mimicking sacred geometry, which he describes as an "intuitive understanding". This can be seen in the enthralling shadows cast when the chandelier is illuminated.
The lighting brand assembles its designs by hand at its premises in Salt River, Cape Town. It is well known for its large and bespoke pieces, which often find homes in lofty open spaces. The squared form of Geometric Storm, however, could fit comfortably in a smaller area.
Willowlamp's more recent designs show a natural progression toward more complex forms. Previous creations have used straight lines in a more elementary way, creating simple geometric shapes. Geometric Storm moves beyond that, breaking up space in a manner reminiscent of an early Cubist painting.
This new piece signals a possible new design direction for the acclaimed brand.