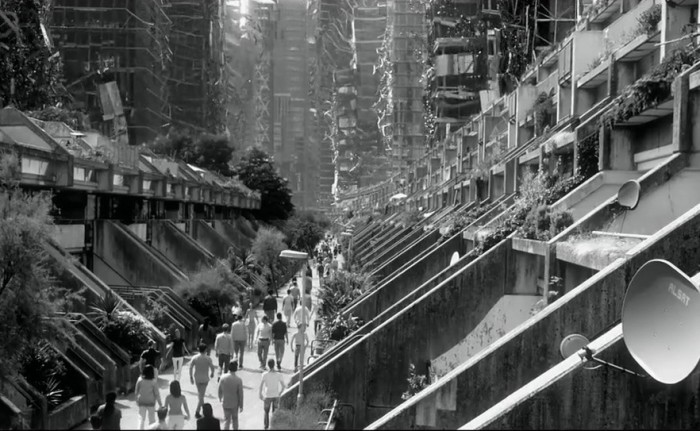 Set to the music of The Bug (a.k.a. Kevin Martin, half of acclaimed duo Techno Animal), this compelling black and white video puts a new spin on a familiar concept – the future as a totalitarian state. Its a dystopian vision rendered convincing creative direction, set partly among the brutalist architecture of the Alexandra Road Estate in North West London.
The talents behind the scenes are Factory Fifteen, a UK based film and animation studio, directed by Jonathan Gales, Paul Nicholls and Kibwe Tavares. They worked in collaboration with award-winning production house and digital studio, Nexus, supported by Ninja Tune Records and The Creators Project, itself a collaboration between Vice and Intel. With so many creative minds and resources on the job, the scale of the production is quite ambitious.
We follow our protagonist through his daily routine, a regimented work/sleep/medicate cycle. However, his world starts to malfunction, crumbling and fragmenting around him both literally and metaphorically.
One of many factors that sets this video apart is that it contains two songs (both from The Bug's new album Angels & Devils from Ninja Tune), a small consideration that becomes a defining factor for the narrative. As the Factory Fifteen principals put it, "The brief was to find a way to showcase both of these great tracks in a music video that felt fluid, yet with two distinctive sides, rather than separate videos. We were sent the beautiful set of album art, which had a great sense of chaos. We took this at the beginning as a type of visual brief, speculating on possible narratives behind the artwork."
The filmmakers set the slower daily routine section of the film to the more aggressive-sounding "Function" by The Bug and the breakdown narrative in the second half to the more ethereal "Void". "We liked the polarity this created," say the guys at Factory Fifteen.
Factory Fifteen, whose members have a background in architecture, took inspiration from the buildings of Lebbeus Woods, an American architect whose work has a cult following. The computer-generated design of the towers was modeled on the hulking, faceted buildings that inhabit Woods' drawings.
"We like the idea of a totalitarian system that you opt into, rather than being controlled by in an authoritarian way," say the filmmakers. "It's an exaggeration of our smartphone culture, analysing, tracking our lives and suggesting supplements to us we think we need."