According to the World Health Organization (WHO), almost the entire global population (99%) breathes air that exceeds WHO air-quality limits and threatens their health. People living in cities are breathing unhealthy levels of fine particulate matter and nitrogen dioxide, with those in low- and middle-income countries suffering the highest exposures.
Armed with this knowledge, Indian and German architecture firm Studio Symbiosis set out to design a cleaning device that purifies mass amounts of polluted air, locating its prototype in New Delhi, India, the world's most polluted capital.
The project, named Verto after the Latin for 'to turn', is a tower that rotates as it rises, turning polluted air into clean air using the principles of aerodynamics. Air is sucked into the tower by energy-efficient fans, then passes through fine dust filters to remove pollutants. The device can clean 600 000 cubic metres of air per day, the equivalent of an area twice the size of a cricket field with a height of two metres.
The tower is covered in triangular perforations that are tapered to create a compression of wind and increase the air being pushed in, with larger openings at inlet and outlet areas. 'Elliptical geometry was designed as the starting point, giving us the minimum resistance,' the designers explain. The form is twisted to channel the wind along the tower's surface, exponentially increasing the surface area, while the rotation geometry was developed to ensure that clean air is not mixed with the unfiltered air being sucked in at various levels.
Designed using glass-reinforced concrete panels to ensure a long-lasting and sustainable product, the tower is fire-resistant, and tamper- and vandalism-proof. The plastic-free filters are sourced from Mann + Hummel, a global leader in filtration technology.
Verto comprises four modules that can be flat-packed, meaning that the technology can be used across the world, as it can be shipped and assembled on-site. The tower contains 60 filters that need to be replaced about once a year, depending on location and pollution levels.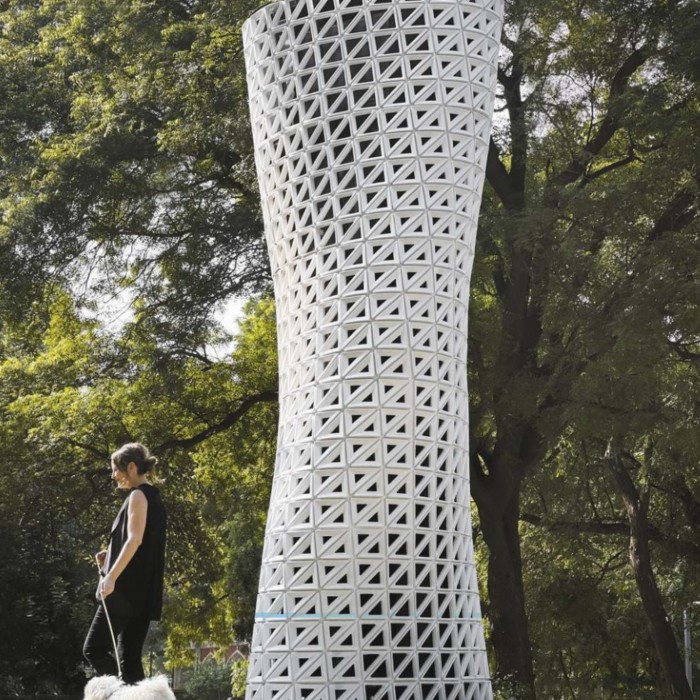 Read more
Photographs: Studio Symbiosis, Avesh Gaur.