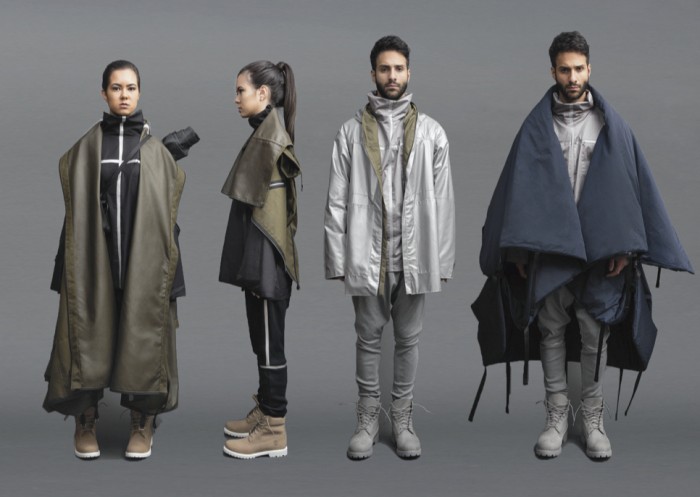 As her senior thesis this year, Parsons Fashion Design student Angela Luna created a line of clothing designed to help refugees. Luna has had the opportunity to bring her idea to fashion designer Donna Karan and consult with various non-profit organisations to discuss plans for producing the garments and distributing them to those in need.
The collection includes seven transformative outerwear garments that are unisex and one-size-fits-all. Two jackets in the range can pop out into either a two-man tent or a family-sized tent, another jacket is able to turn into a sleeping bag, and a shapeshifting cape can transform into a backpack. Luna also designed an inflatable life vest, an adjustable child carrier vest, and a camouflage jacket that is both reversible and reflective.
Many establishments have shown interest in the senior's collection and Turkish non-profit group Humanitarian Relief Foundation (IHH) believes that the transformative garments could not only help refugees but they could also benefit humanitarian aid workers and displaced people who suffer similar circumstances.
The young designer decided to focus on key issues faced by refugees making long journeys to seek asylum in other countries. Each garment she designed addresses a particular problem such as drowning, exposure to extreme elements or having no shelter.
The collection is not a once-off school project, Luna is currently busy trying to get her designs patented. She envisions marketing and selling the garments as technical activewear and then using a portion of the profits to donate more utilitarian versions of the clothing to refugees.