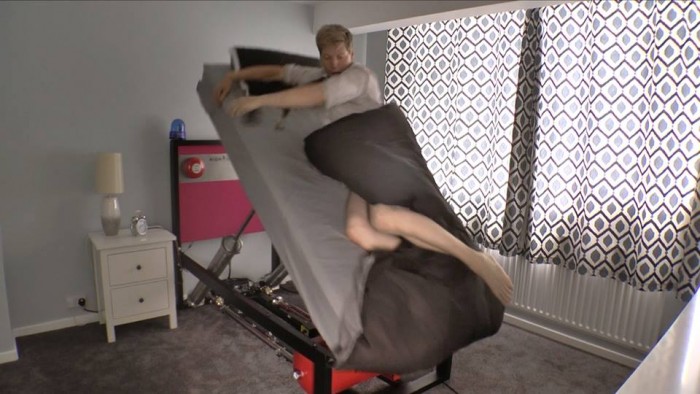 Colin Furze's Wallace & Grommit inspired ejector bed
Garage engineer and inventor Colin Furze has created the wake-up call we've all been looking for. If you're anything like Furze, being startled awake by a screaming alarm isn't as effective as it used to be. And if you often find you've snoozed your alarm instinctually without even waking up, then here is your solution.
Furze's real-life adaptation of Wallace & Grommit's ejector bed attempts to solve this problem by rocketing the user out of bed before they have a chance to hit the snooze button.
The invention was designed and built in Furze's garage as a response to a request from coffee company and project sponsor, Taylor's of Harrogate.
The bed is powered by an ordinary domestic compressor and home-made pistons that throw you out of bed as soon as your alarm sounds.
If that isn't enough, the bed is also equipped with ringing bells and flashing lights!
Check out the end product below and check out the making-of video here.