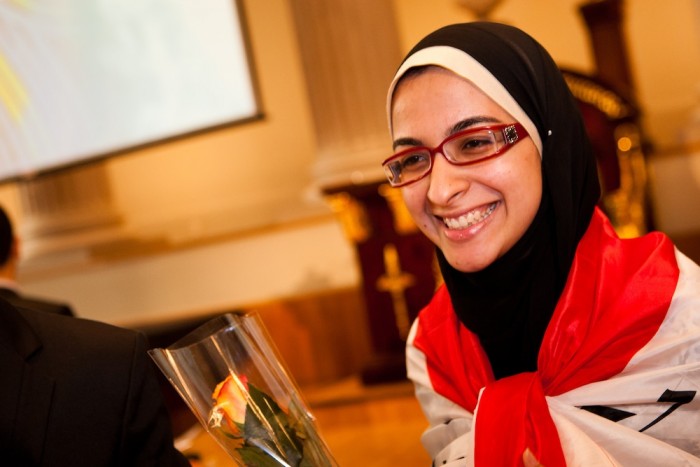 Teenager Azza Faiad is pioneering an inexpensive way to turn plastic waste into biofuel. Image: europa.eu
Inspired by Egypt's high plastic consumption of almost 1 million tons per year, Azza Faiad, an Egyptian teenager, developed a method for generating biofuel by breaking down plastic waste. Faiad's method uses a cheap, sustainable catalyst to break down plastics. The catalyst is the substance that speeds up a chemical reaction
The formula successfully converts plastic into fuel feedstocks – the bulk raw material for producing biofuel – using a new catalyst called calcium bentonite.
The process of breaking down plastic waste produces gasses such as methane, propane and ethane, all of which can be converted into ethanol for use as biofuel. Faiad's method reduces the cost of this process significantly.
Breaking down plastic waste and polymers by heating them to high temperatures is not a new idea. What is completely innovative is Faiad's use of calcium bentonite.
Scientists refer to Faiad's product as "biofuel" because the organic chemicals that she extracts from the plastic polymers are the same chemicals extracted from vegetation to create ethanol biofuel.
Impressed with Faiad's efforts, the Egyptian Petroleum Research institute gave her access to a lab and its researchers in order to help refine her trash to fuel formula.
Faiad, a student at the Zahran Language School in Alexandria, is now working on a patent for her new plastic to fuel process. Faiad won the European Fusion Development Agreement award at the 23rd European Union Contest for Young Scientists.
The young Egyptian's innovation is commendable because it tackles two issues at once – finding a use for plastic waste and providing a new way to create biofuel.