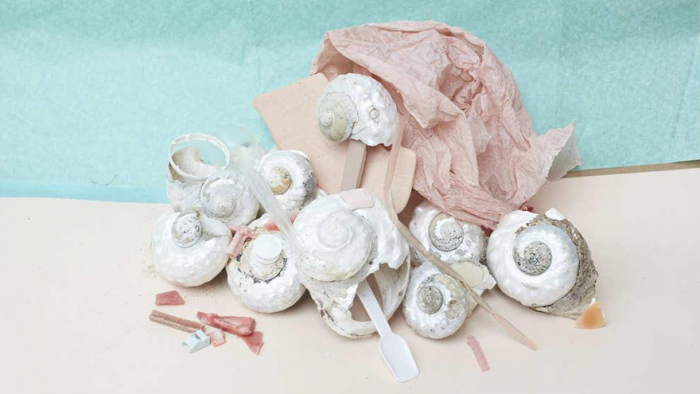 Thirza Schaap is a Dutch photographer and visual artist based in Cape Town, South Africa. In this photo series, Plastic Ocean, Schaap aims to shift our perceptions of the value of trash as well as to draw attention to the sad state of our oceans in terms of pollution. She creates unique artworks from garbage, challenging our assumptions about what is attractive and what is repulsive.
Schaap composes these delicate photographs using plastic waste found on Cape Town's Clifton Beach. Each of her images is arranged within moments using pastel-hued paper as a background. She scours the beach, collecting handfuls of discarded items and groups them together according to their colours. In her view, plastic straws, clumps of fishing wire and rubber flip-flops present an opportunity for beauty which should not to be overlooked.
Speaking to i-D, Schaap describes the moment that spurred her on to start Plastic Ocean as an ongoing project. After witnessing how colourful debris would wash onto the local beach like decorative flecks of shrapnel among the sand, Schaap decided to move.
"It was like confetti, like there'd been a birthday," she says, "It made me realize what we've done."
Though ethereal and pretty, Schaap's Plastic Ocean represents the real ecological danger of our global obsession with plastic products. She aims to turn some of her flotsam photographs into instructive posters to be distributed among coastal wildlife organisations, to help beach-goers identify and recycle different types of plastic waste on their own. By the same token, Schaap's work is a noteworthy exercise on how preciousness can be made from nothing for a good cause.