Insects have been touted as the new superfood because they're nutritious, create less greenhouse gas, are cheaper to source (because they're everywhere) and are less likely to make us sick. But while crickets in our soup still give some of us the heebie-jeebies, it turns out that insects have been feasting on us – specifically our tears – for years. This strange scientific discovery inspired a collective called The Centre of Genomic Gastronomy to ask even stranger questions: How do we taste and how can humans manipulate our bodies, diet and emotions to change our own flavour?
To Flavour Our Tears is an experimental restaurant that investigates the culinary properties of tears and the culinary needs of insects and other eaters-of-humans.
"Humans believe we have spent the last 10,000 years domesticating species of all sizes, shaping the planet in our image," reads the collective's website. "Perhaps the tear-drinking insects have been domesticating us the entire time, and they are now ready to farm our tears more intensively."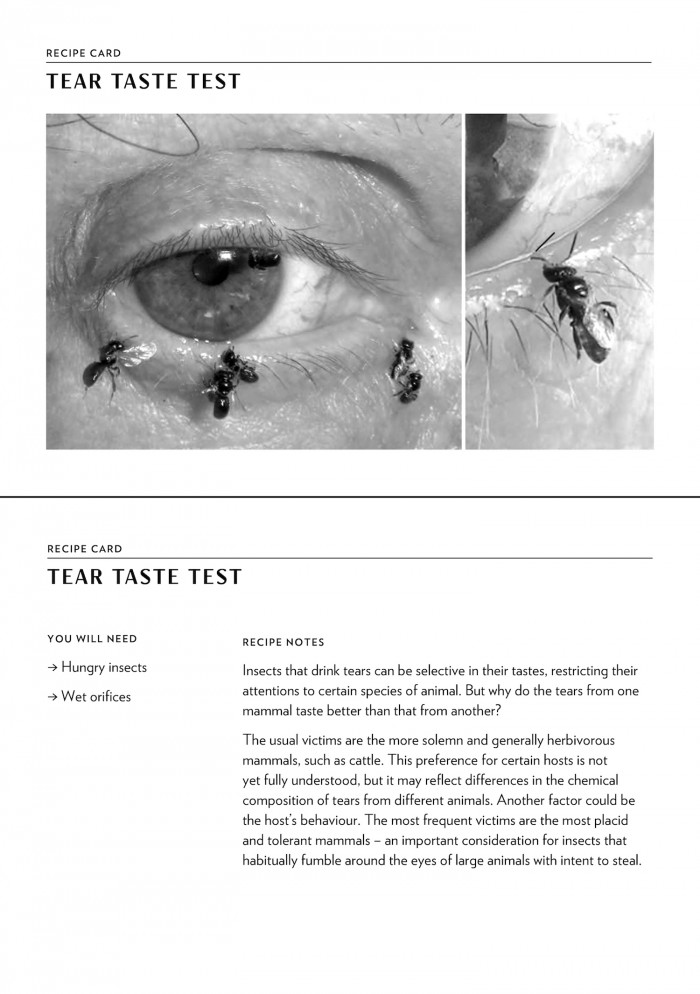 Since its inception in 2010, the Centre of Genomic Gastronomy has looked toward alternative culinary futures. It's latest scientific exploration, which was exhibited last month at the Pixelache exhibition in Helsinki, turns the notion of eating insects on its head. We know that we eat insects every day, mostly by mistake. But what we have neglected to consider is that the human body is a kind of ecosystem for microbes and insects alike. Insects like moths and bees are known to suck the tears from underneath the eyelids of birds and mammals and some studies have shown that insects are likely to dine on the fluid in our noses too.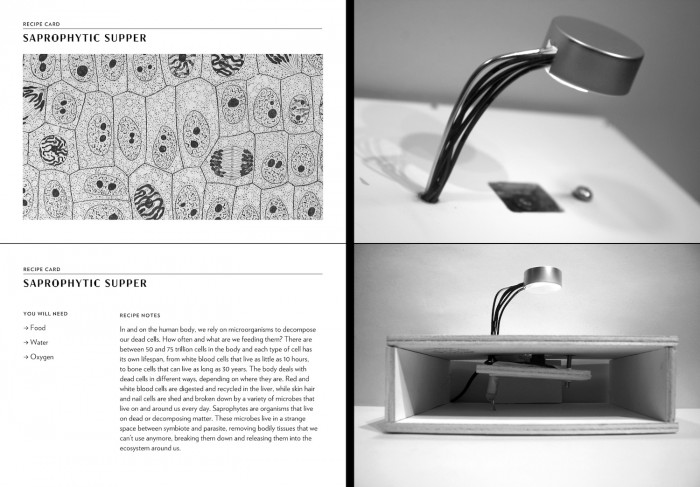 At the experimental restaurant, participants were asked to collect their tears, do a tear taste test and even dehydrate their tears into salt based on recipes provided by the research centre. Speaking to We Make Money Not Art, Zach Denfeld, co-founder of the Center together with Cathrine Kramer, dubbed the process of flavouring oneself, Autogastronomy.
"It is both metaphoric and quite possibly implementable. Where possible, at the Center for Genomic Gastronomy we try to stay true to our materials, assembling real organisms and ingredients in new configurations and find ways that we can give people the taste of the world we are imagining / speculating, and have them put the art directly into their body (or their body into to the art sometimes). We will be looking for ways to get closer to the real moths, but we will continue to search for other organisms that find parts of humans particularly tasty."