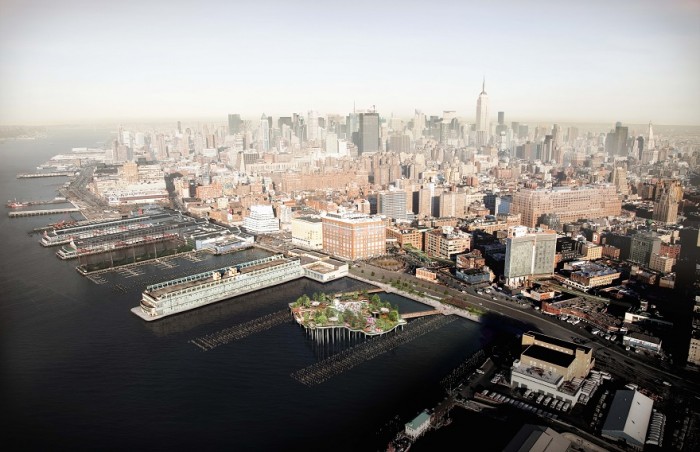 After eight years of planning, development and construction, Little Island has finally opened to the public. A 2,4-acre public park and performance space, it's a 'floating' urban oasis comprising three performance venues and featuring nearly 400 different species of trees, shrubs, grasses and perennials. Little Island is situated above the Hudson River in New York City and was conceived by Heatherwick Studio with MNLA and Arup as landscaping and engineering partners.
When Heatherwick Studio was asked to come up with a sculptural structure for the Hudson River Park promenade, they "saw an opportunity to create a more engaging experience for New Yorkers and to build on the city's heritage of inventing exciting new public spaces," explains Thomas Heatherwick, Founder of Heatherwick Studio, and a former #DI Speaker. "Instead, we had the idea to make an entirely new type of pier as a lush rectangular garden island, connected to the land with generous gang-planks as bridges, aligned to the street grid of New York."
Heatherwick was inspired by the existing wooden piles and piers themselves, asking "could we make these the heroes of our project, rather than hiding them?" The resulting design is based on turning the tops of the piles into dramatic planters that fuse together to make an undulating landscape. "Typically pier structures are always flat, but we saw this as an unmissable opportunity to lift the surface to create a more dynamic social experience for visitors and give great sightlines for performing spaces and lookout points over the river. Our intention has been to make an exciting space that is free for everybody to come to, that treats the river as part of nature," says Heatherwick.
MNLA's role entailed designing the landscaping, performance spaces and an open plaza for recreational and educational programs. "Little Island is a special place that affords New Yorkers the rare opportunity to experience a multi-sensory landscape," says Signe Nielsen, MNLA Founding Principal. "As one strolls through the park, many destinations beckon – overlooks with unparalleled views, cultural venues with continually changing offerings, sloping lawns for picnics, and seating nooks. Each of these is engulfed by a unique landscape that transitions from a rich diversity of colours and textures to open grasslands as one ascends the three hills. My hope is that visitors are surprised and delighted each time they come."
Arup served as the project's engineering consultant, spanning structural, mechanical, electrical, public health, and civil engineering services. The team's engineers created a benchmark structural approach to build the park, harnessing advanced 3D design and prefabrication techniques to deliver the project's unique design and ensure construction feasibility. "Little Island is an urban park like no other, and its opening is a true testament to the power of pushing boundaries and partnership between leading design, engineering, architecture and construction firms," said David Farnsworth, Arup Principal.
Here's more:
Visit heatherwick.com, mnlandscape.com and arup.com to learn more about the companies involved.
Thomas Heatherwick: Designing the new Silo project.
The role of architecture: according to Thomas Heatherwick, Christian Benimana and more.
Credits:
Timothy Schenck