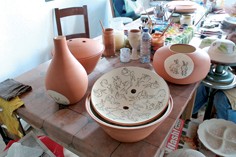 "In countries such as Portugal, one cannot talk about craft without looking back at century-old object-making traditions. Terracotta water jugs, for example, were once objects of necessity – they performed the functions of carrying, storing and cooling water. Often shaped or decorated to reveal origin and cost, their making included a planned obsolescence: within the traditional production and distribution system of terracotta jugs, a broken jug is easily replaced and disposed of. The success of both the object and its cradle-to-grave life-cycle – clay is cheap and biodegradable – was however dependent on its agricultural context. So in our post-agricultural, urban society, the function of days before becomes the decoration of today. These often decorated vessels were gradually replaced by refrigeration, urbanisation and newer, more durable materials.
"Terracotta jugs are now decorative artefacts, nostalgia of a bygone past. They also prolong an agreed version of what traditional making and decoration is or looks like in our post-industrial, visually overloaded society of conspicuous consumption. We have come to value the inherent qualities of the manufactured but, paradoxically, also of the ingenuity of the industrially produced. So when the hand-making of the artisan is not enough to satisfy our urge for the new, the brain-thinking of the designer comes along to bring a new life to tradition – whatever we make of it. These new authors – our new craftspeople of today – interpret materiality, visual references and traditions of use to meet our present needs of functional objects, but also of contemplation. So when objects – such as a terracotta jug – no longer meet our functional needs, both the profession and economic activity of craft are in peril. At the same time, when industry fails to meet the rise of their ever-growing class of design, its practitioners must find new strategies of survival.
"Meaningful, successful craft today is – in Portugal and the world – the hybrid result of both traditional making and innovative thinking, of local makers and global thinkers, of materiality and decoration, of necessity and excess. It's all those things and more: that is why it so effectively reflects our present condition. The faith of craft pieces such as this is, however, to fight for shelf space with the rest of consumer goods – be it in real or virtual stores, in our homes or museums."
These terracotta pieces are the result of a collaboration between Pedrita and craftsmen from a village in Portugal. Pedrita is a Lisbon-based design studio led by designers Rita João and Pedro Ferreira, two of Duarte's friends.