Natural disasters are a part of human existence—ever since the inhabitants of Pompeii were victims of Vesuvius, Homo sapiens have been dying unnecessarily due to the extremes of Mother Nature. Yet today, extreme weather events are even more calamitous, increasing in both frequency and cost. In 2017 alone, the United States experienced 15 natural disasters that each caused more than $1 billion in damages.
It's known that deviations in temperature and rainfall due to rising greenhouse gases result in more intense climate change and natural disasters. The International Monetary Fund noted in its 2017 World Economic Outlook report that "the frequency of disasters caused by heat waves, tropical cyclones, and wildfires will increase considerably" in countries of all economic stripes throughout this century.
The global society expends a great deal of resources responding to these disasters through the Red Cross, Federal Emergency Management Agency (FEMA), and United Nations' bodies responsible for disaster response. And while people have the capabilities to anticipate, mitigate, and prevent a significant portion of the devastation caused by natural disasters, they typically do not.
That's because public institutions are organized to deal with disasters after the fact, doling out support and relief as needed instead of allocating more resources to prevention and mitigation. The psychology behind this is easy to understand: Spending resources on individuals in immediate need is preferable to spending money to avoid a problem. This manifests in all kinds of human systems, such as health care, where treatment is inherently the focus. Prevention is invisible—the absence of death and destruction is the only measure of success.
But given the increasing scale of the problem and the potential of new technologies that provide predictive power, this is no longer acceptable. Now is the time to "build back better"—to commit to sustainable-design practices that will rebuild the world's infrastructure with climate resilience at the forefront.
Natural-disaster preparation must accomplish three essential things. Firstly, it should update regulations, such as zoning laws and building codes, and enforce them better. Secondly, it's important to leverage newly available tools to simulate the effects of rising sea levels and higher wind speeds, with more robust stress testing of the built environment. And finally, incorporate long-term thinking into urban planning to ensure that the policies and public works projects of today account for the impacts of tomorrow.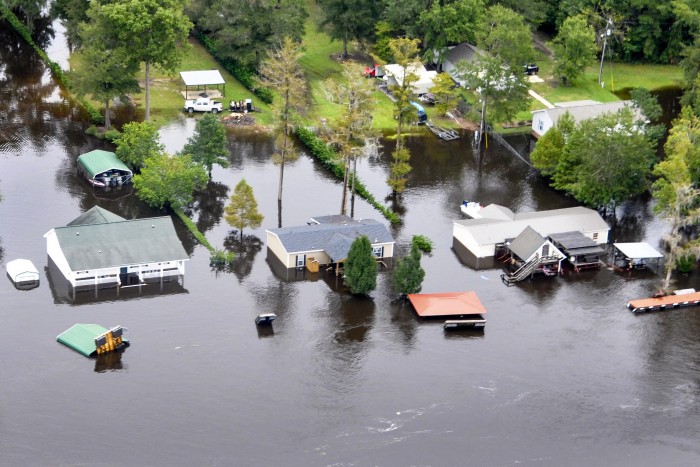 Beyond Building Codes
There are some encouraging examples of people voluntarily enhancing building codes to promote greater resilience. In the San Francisco Bay Area, a multitude of earthquake-related strategies can serve as examples for how to prepare for other types of disasters. Many new buildings in earthquake-plagued San Francisco exhibit the preventative, build-back-better philosophy by going beyond the base-level building codes for earthquake safety.
The Resilience-Based Earthquake Design Initiative (REDi) Rating System, developed by ARUP, establishes design and planning criteria to minimize structural damage, repair costs, and repair time. With its REDi Gold Rating, the 56-story commercial and residential tower at 181 Fremont St. in San Francisco is the most earthquake-resilient tall building on the West Coast. It should withstand the "maximum credible earthquake" for the area—a magnitude 8.0 event—with expected repair costs 10 times lower than a standard-code building and expected downtime of only a few weeks (as opposed to years).
Improving upon existing building codes is a global need. Autodesk Foundation supports organizations such as Build Change, which works with people in emerging nations to build houses and schools that can withstand earthquakes and typhoons. As founder Dr. Elizabeth Hausler says, "It's not the earthquake that kills people; it's a poorly built building." Build Change works with governments to develop building standards and trains contractors in better rebuilding practices.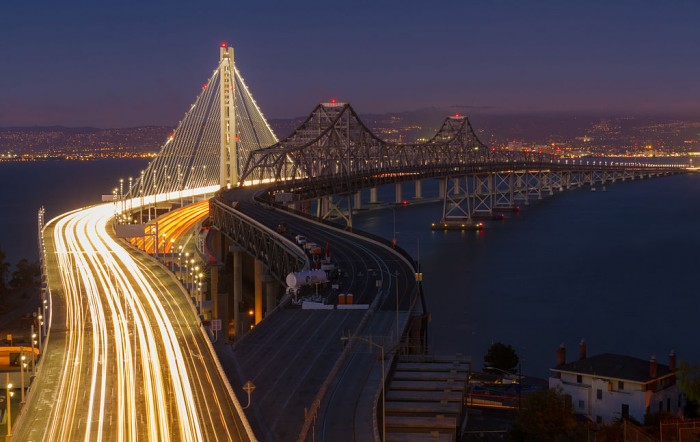 © Frank Schulenburg / CC BY-SA 3.0
Simulation Tests
San Francisco's tallest building—the 1,070-foot Salesforce Tower, which opened early this year—is among the safest buildings to be in during an earthquake up to magnitude 8.0, despite its location in a soil liquefaction area. It benefited not only from going beyond the existing building code, but also from strenuous simulation tests. Magnusson Klemencic Associates worked with the city and a peer-review panel on a process called performance-based design, which used computer simulations to test the tower's design against 22 earthquakes modeled on the worst tremors in the Bay Area's recorded history. Performance-based design allows architects to optimize buildings for their specific sites; save time and money by using fewer materials; and most important, anticipate disasters.
When the new eastern span of the San Francisco–Oakland Bay Bridge opened in 2013, it marked the completion of the largest public works project in California history. Engineering firm T.Y. Lin International designed it with seismic innovations like "accordion-style" expansion joints that move in various directions during an earthquake. Complex computer simulations used throughout showed how the bridge would stay intact, "dancing to the rhythm of the earthquake."
Other urban planners and builders must have those same types of physical and digital tools at their disposal to make decisions that will help the greatest number of people. The United Nations High Commission for Refugees (UNHCR), the UN body responsible for housing and supporting 35 million refugees worldwide, is beginning to put that idea to the test in the Bangladesh refugee camp of Rohingya Muslims who have fled Myanmar. UNHCR's computer modeling determined that more than 100,000 refugees would be vulnerable to floods and landslides this monsoon season. In conjunction with other international relief groups, the UNHCR then ran much more low-tech simulation exercises to prepare relief practitioners to deal with flood impacts and move families to safer, planned settlements.
Think of the Future, Act in the Now
Although it may not seem like it, the Army Corps of Engineers actually prepared for flooding around Houston by conducting simulations prior to Hurricane Harvey. However, ballooning housing needs in the greater Houston area led policymakers to ignore the Army Corps' work and build housing in a manner that endangered lives and property. These actions significantly increased the devastation caused by the hurricane.
Nevertheless, the long-term thinking necessary to address this problem has started to catch on in certain high-risk areas of this country. For example, in the wake of last year's Hurricane Irma, Miami-Dade County completed a $1.2 billion plan for flood-management infrastructure, such as water pumps, sewer improvements, and street protections.
However, the plan is not entirely funded yet. Due to short election cycles, the public sector can be incredibly risk-averse to prevention spending. Philanthropic organizations and corporate foundations often have more risk tolerance built in, with the freedom to act on new thinking and innovative designs. They need to step in and carry the torch for better rebuilding policies, partnering with governments when possible.
One such partnership had excellent results: After Hurricane Sandy, the Department of Housing and Urban Development (HUD) and the Rockefeller Foundation launched Rebuild by Design, a design competition for natural-disaster resilience projects. The competition has funded seven infrastructure projects in New York, New Jersey, and Connecticut for preventing floodwater and wave erosion damage, to begin construction from late 2018 to early 2020.
Modeled on Rebuild by Design, the San Francisco Bay Area Resilient by Design challenge selected 10 design teams that are currently bringing together local residents, public officials, and experts to develop resiliencies to sea-level rise, severe storms, flooding, and earthquakes in 10 locations around the Bay.
Rather than waiting for natural disasters, these cooperative efforts focus on damage prevention and present models for others around the world to follow. Preemptive natural-disaster interventions can be the catalyst for massive mind-set changes, moving away from ignoring the future and toward preparing for it.
This article was first publish by Autodesk's Redshift, an online platform that explores the future of making.
More on sustainable architecture and design:
Omar Nagati on renegotiating Downtown Cairo through design
Michelle Mlati's afrofuturist approach to spatial planning
The world is changing and green material is at the forefront