In early February 2017, the KwaZulu-Natal education department in South Africa began distributing free sanitary pads to schools across the South African province. With numbers of girls missing school due to their period estimated to be in the millions in Sub-Saharan Africa, it was an important step to ensure that menstruation does not hinder already marginalised girls' pursuit of education. 22-year old Jessie Zinn's short film Can I Please go to the Bathroom? explores this gendered phenomenon and considers the intertwining health and social issues that young women face in South African schools.
An independent Cape Town based filmmaker, Zinn's work has been generating considerable buzz both locally and abroad. A recent graduate of the University of Cape Town (UCT), her graduation film, Into Us and Ours won the Best International Short Film award at the Ivy International Film Festival and was selected for screening at the Cannes Film Festival Short Film Corner in 2016. Her most recent work delves into the somewhat taboo topic of menstruation and its largely ignored financial implications.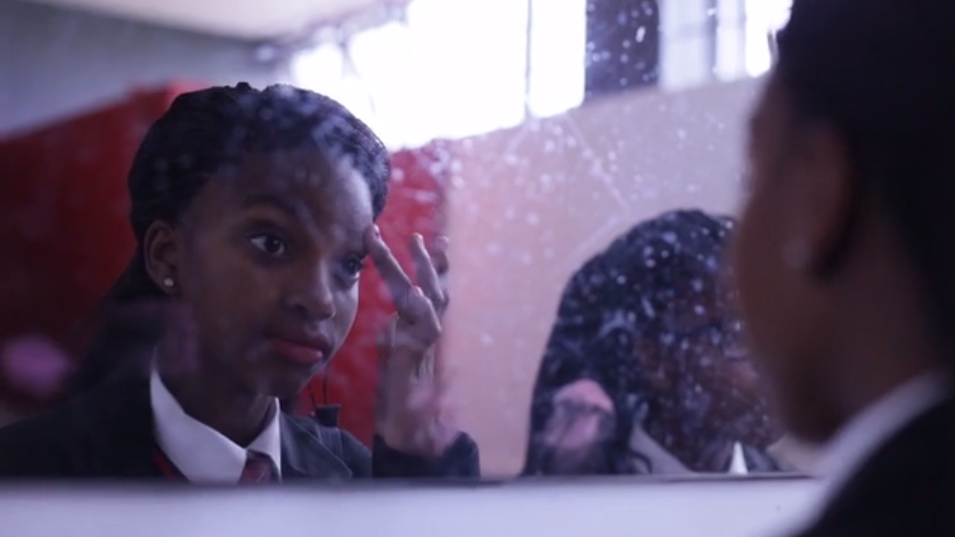 Created as part of a research project in association with the Western Cape Education Department, Rock Girl and UCT, Can I Please go to the Bathroom? invokes still familiar tales of embarrassment and secretiveness from students who menstruate. Featuring shots of clinical off-white tiles, the sounds of school shoes squeaking on the floors, and bathroom doors being edged open and slammed shut, the three and a half minute film effectively transports viewers back to their own school days while giving a decidedly local context to a pressing issue.
South African students are used to walking into public bathrooms and finding stacks of government issued condoms made available for the public at large, a measure taken to counter the spread of HIV. Despite insistence that sanitary towels be made available in the same way, the government's uptake has been slow. As one voice in Zinn's short muses, "Boys can control what they're doing, but girls, we really can't control what happens with our bodies."
As audio of different girls' voices plays over footage captured inside a girls' bathroom – 'Sometimes you feel like laying down; you lay down and it's a problem' and 'I don't have money to buy the pads or tampons,' are just some of the grievances they air – animation and illustrations by Matthew Reeler and Maya LeMaitre intermittently appear to give form to the girls' words.
Can I Please go to the Bathroom? was selected to be part of the 2016 Sundance Ignite "What's Next?" short film challenge, an initiative from Project 1324 and the Sundance Institute that seeks to highlight the bold new voices in the next generation of filmmakers.