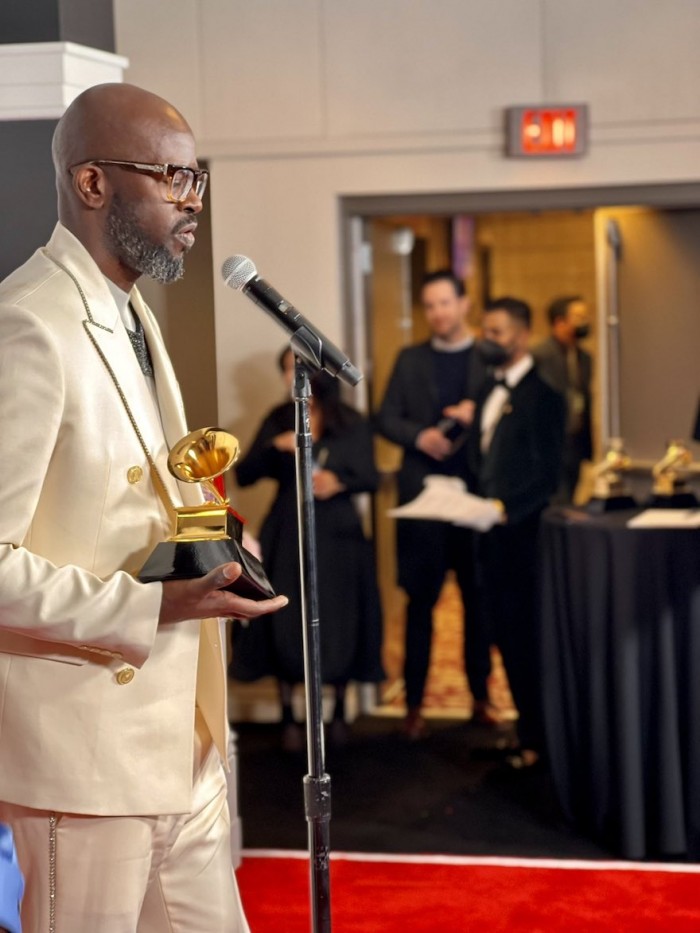 Clad in a stylish cream suit, Black Coffee, 46, took to the Grammy's stage on Sunday, 3 April with his eldest son, Esona. The Design Indaba Alumnus – and now first SA artist to win a Grammy in this category – hadn't prepared a speech, but he said: "I want to thank God for the gift of music and being able to share it with the world, to heal some souls and help people go through whatever they are going through in life."
The artist's 2021 album, Subconsciously, for which he bagged the win, features house beats that seem to channel the pandemic's "barely restrained frustration of staying put when all you want to do is move: towards your lover, towards a different version of yourself, towards anywhere but your present," writes music journalist Tarisai Ngangura for Pitchfork.

While the artist, born Nkosinathi Maphumulo, has certainly broadened his global reach with this album – which features international heavyweights Pharrell Williams, Sabrina Claudio, David Guetta, Delilah Montagu and Usher, along with South Africans Msaki, Una Rams, Tellaman and Sun-El Musician – his own smooth, mood-altering grooves stand out more readily here than in other high-profile collabs, rendering his win all the more deserved.

Maphumulo pursued his jazz studies at the Technikon Natal, where he learnt to create a diverse range of sounds. He released his debut house album, Black Coffee, in 2005, which was created using basic software on his computer. With every album released thereafter, Black Coffee has displayed a stronger comprehension of his soulful style and just how it affects audiences. He was nominated for the 2011 MTV Europe Awards in the Africa, India and Middle East category for Best Worldwide Act – a sign of great things to come.

Never one to shy away from a gruelling touring schedule, on one occasion covering 17 countries on four continents, Black Coffee exemplifies African excellence on the world stage. His Grammy acceptance speech was dedicated not only to his own children, "who have had to put up with me being on the road working on this music", but to "every African child who has a dream of excelling in anything they envision. I want to affirm that it is all possible".
The award takes its rightful place in African history books – not just for the dedication, hard work and consistency Black Coffee has shown over many years, but also for the way in which he has remained true to a sound that is authentically African while pushing the barriers of what African music can essentially evolve into.

This is a first-time win for the DJ and producer that's fully deserving of Black Entertainment Television's congratulatory message: "From Africa to the world."


Read more:
DJ Steloo on creating an electronic music scene in Accra.
Credits: Black Coffee