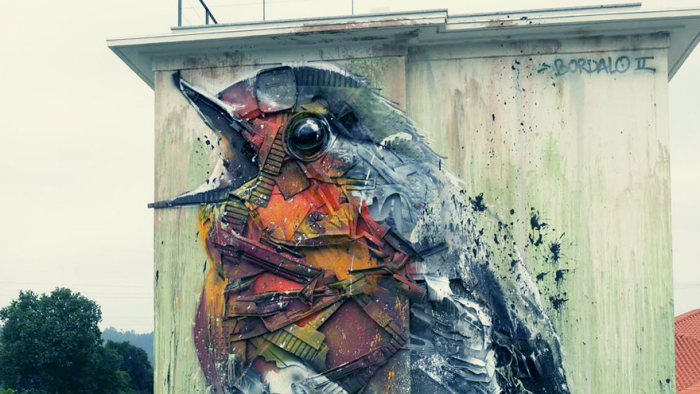 Artur Bordalo, also known as Bordalo II, is a multimedia artist based in Portugal's capital city of Lisbon. He specialises in assemblage or "trash" art, taking found objects and refuse to create original installation pieces. Arguably his most celebrated project is Big Trash Animals – a longstanding series of animal-inspired sculptures made of garbage that are built into building facades – to which he has recently added a number of new additions.
It is Bordalo's mission to raise awareness of the effects of our obsession with plastic products through these adorable and striking sculptures. His artworks are made entirely of discarded materials such as wooden boards, damaged car parts and broken appliances sourced from abandoned factories, landfill sites and defunct construction areas.
"I create, recreate, assemble and develop ideas with end-of-life materials and try to relate it to sustainability, ecological and social awareness," says the artist.
Damaged plastics and other rejected materials come together to form huge critters, serving as a powerful reminder of the natural cost of our superfluous production of goods and inability to recycle appropriately. While Bordalo's creations bring a cheerful slant to the drab veneer of urban buildings, the animal faces do represent the cruel effects of pollution and the systematic obliteration of their habitats.
According to Bordalo, "The idea is to depict nature itself, in this case, animals, out of materials that are responsible for its destruction."