New distancing norms in life after lockdown demand that we reinvent the way we socialize, especially as this mode may remain in place indefinitely. This week, we communal herd animals look at a cautious return to a more interactive way of life whilst co-existing with the threat of the virus and maintaining self-preservation. It's a mammoth juggling act, but we've had to adapt to all the balls in the air at once…
Daily Constitutional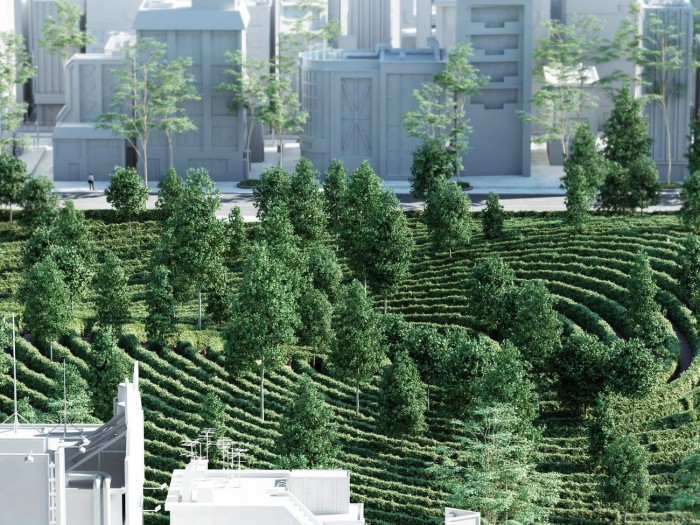 Parc de la Distance is a social-distancing-friendly park proposal by Studio Precht. Image credit: Studio Precht.
Lockdown laws have shifted how, when and where people can exercise each day. As a riposte to public promenades and their proximity issues, Studio Precht has designed the maze-like Parc de la Distance, where the myriad hedgerows function as social distancing barriers, allowing you to solve the puzzle of exercising without encroaching on your fellow walkers' 2m mark. Although proposed as a solution for Austrian citizens (who came out of lockdown on 14 April 2020) the new-wave park could be planted anywhere in the world.
Hyperlocal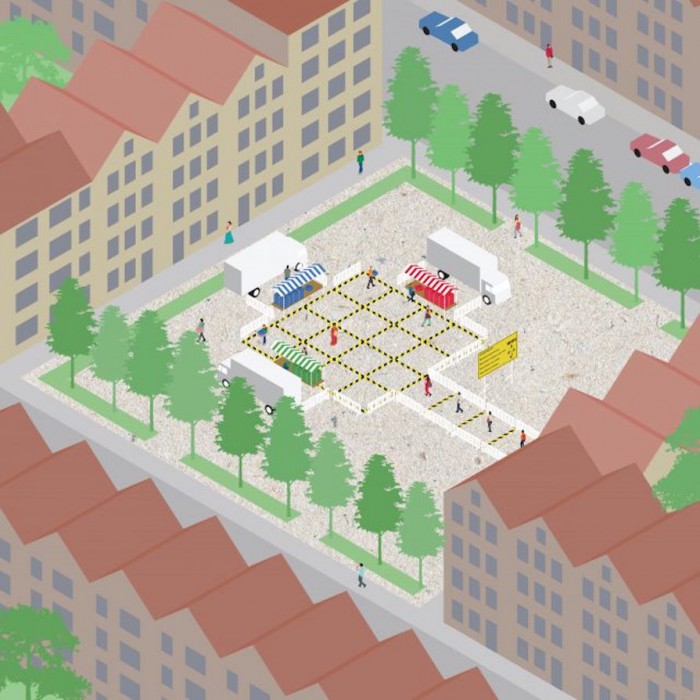 Hyperlocal Micromarkets in shutdown realities. Image credit: shift-au.com.
Championing local businesses has been tendered as one of the ways to ease crumbled economies. Pre-lockdown grocery shoppers increasingly favoured strolling farmer's markets, and this trend is bound to intensify as the "support your hood" call rises to a deafening roar. But the strolling part will be an issue. The challenge for the post-lockdown reality is reinventing how to browse without the bustle, should you prefer an outing to e-commerce. Shift Architecture has conceptualized a social-distancing model for micro markets - you still get to handpick the ripest melon!
Fasten your seatbelts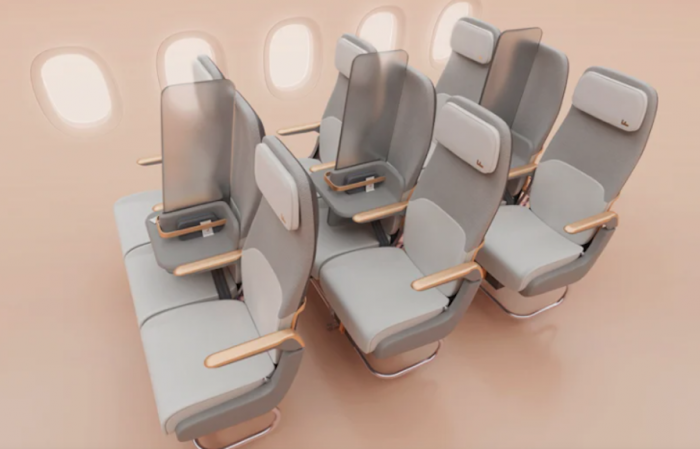 "Airlines will need to adapt their cabins in order to tempt customers back and reassure them that their health is protected whilst on board," factorydesign explains. Image credit: factorydesign.
With airlines not only grounded, but in crisis, the aviation industry is being seen from above. There's little doubt that carriers and cabins will be set on a new flight path. While Economy Class travelers are likely to relish the little extra leg-room social distancing will bring them, the majority of passengers needing to fly are likely to be paying for the behavioural changes at Business Class rates. Although a solution for the stale air that gets circulated onboard has not yet been found, consider factory design's inflight isolation partitions.
Dining Dens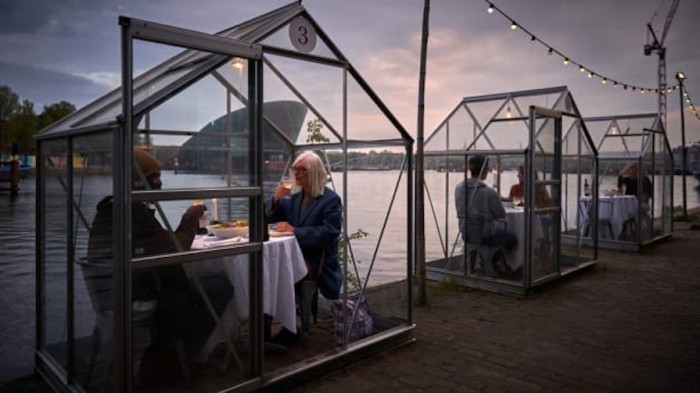 Diners inside Mediamatic ETEN's greenhouses. Image credit: Willem Velthoven for Mediamatic Amsterdam.
Restaurants are installing pop-up protection pods for diners' peace of mind. Together while apart, these dining dens also claim the cachet of adding novelty factor to the repast...
Masked Crusader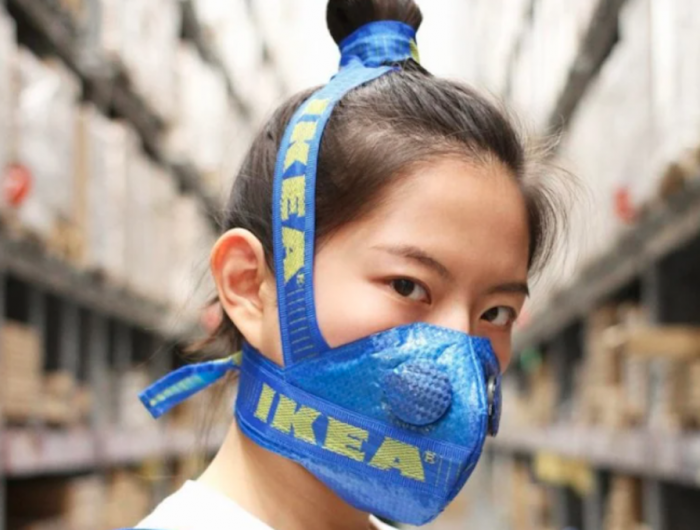 Zhijun Wang's mask employs the now-iconic IKEA blue and yellow tote. Image credit: Zhijun Wang.
Fashion staples were once a T-shirt and blue jeans, but because face masks have become required garb, no self-respecting social distancing wardrobe is complete without one – or two, or three... From à la mode masks sold for charity, to funky fabric renditions, to repurposed hardware store versions, to customised artworks, we've spawned a plethora of solutions for the lower half of the face.
No stranger to #maskology (after all, he's been handcrafting the self-preservation apparel for seven years already), Zhijun Wang recently transformed an IKEA shopping bag into a mask with the most! Take a look at Wang's streetwear-worthy masks made from sneakers on his Instagram account.
Members IONeLY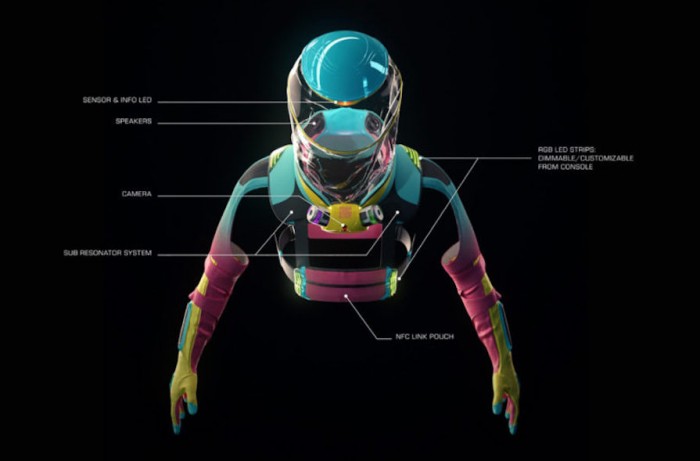 The Micrashell Futuresuit lets you party like it's 2099. Image credit: production.club/micrashell.
When Sophie Ellis-Bextor performed "Murder on the Dancefloor" back in 2001 she was certainly not presaging 2020, where getting too close to someone could literally mean death. Nightclubs, sporting events and concerts requiring close contact for crowds are all still major No-No's for now, but to speed their return, Production Club has conceptualised the futuristic Micrashell - a bodysuit that won't kill the groove! Read more.
9-2-5 Reboot
Romware Covid Radius: Demo social distancing at Port of Antwerp. Image source: Rombit, Reuters.
Those conventional conversations at the watercooler will be displaced for a good while yet as we figure out safe ways to return to communal work. Keep your COVID-19 radius intact with Romware's smart bracelet that issues an alert when someone comes too close. The unobtrusive tech certainly beats the heartachingly anxious Italian man who went viral for wearing an overly large cardboard donut about his waist to go to the supermarket…
Just for YouTube
The late great Massimo Vignelli may sadly have passed away in 2014, but unique insights into this design icon have been archived in perpetuity, thanks to the Design Indaba files. Subscribe to the Design Indaba YouTube channel for an exclusive in-studio interview with the noteworthy Massimo.
Home cooks have been sharpening their kitchen skills, along with their chopping knives, during lockdown. Unleash that inner foodie by taking inspiration from Ghanian experiential chef Selassie Atadika, who shared her vision of Africa's umami at #DI2020.
Give Shelter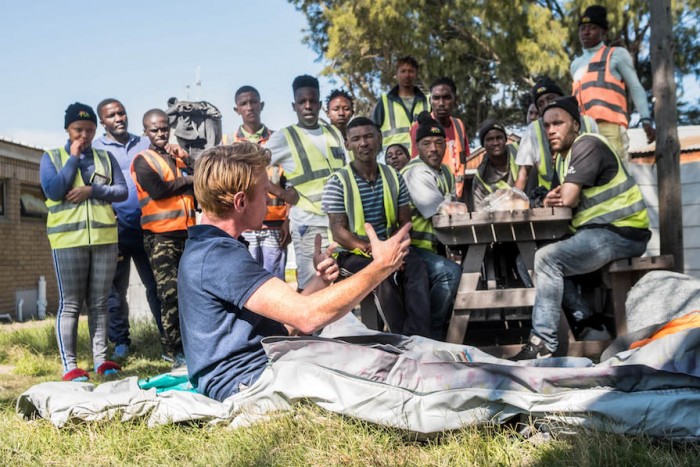 Bas Timmer's Shelterbag offers protection for the homeless. Image credit: ShelterSuitFoundation.
Give hope to the homeless in Cape Town by donating one of Bas Timmer's Shelterbags. We seeded this project at #DI2020 by donating the first 250 bags and we invite you to keep the momentum going.