Global outdoor brand Timberland and Italian architect Stefano Boeri teamed up to bring a green installation to Milano Design Week 2022. The dreamlike Floating Forest took to the waters of the Darsena in Milan, making a poignant statement about urban greening. The fully immersive exhibit, which is an independent ecosystem, brought visitors close to 610 plants and 30 diverse species, multiplying diversity and bringing some of the benefits of urban forestry to Darsena, a small waterway that is all that remains of an intricate system of canals and rivers crisscrossing Milan.
Visitors escaped into their own private forest when visiting the tactile exhibit, wandering among maple, birch and apple trees, bushes such as the aronia berry, hydrangea, mahonia and pittosporum, and perennial grasses, like stipa, eulalia, anemone, daylily, purple verbena and pampas. A path through the installation, divided into four stages, awakened each of the visitors' five senses while they interacted with Timberland's ecological product innovations, like their GreenStride soles, which are made with a 75% combination of renewable sugar cane and tree rubber. An on-site digital experience could also be accessed online for those people unable to attend in person. One of the stages, a 'Hear & Breathe' room, demonstrated the positive impact nature has on the city of Milan.
Timberland has long had a vision for a greener, more equitable future, and the brand has teamed up with a number of artists and designers to bring its brand values to life. The Floating Forest presented new ways to occupy and transform urban spaces, offering a place of intersection and reconciliation between the natural environment and human beings.
The project's aim was to leave a legacy for the city, in support of the local community – all the trees making up the forest were donated to Soulfood Forestfarms Hub Italia, a non-profit organisation facilitating the ecological transition of territories together with local communities, institutions and businesses. Together with CasciNet Agrohub and the University of Milan, it is implementing a regeneration project at Vettabbia Park to transform disused land into a productive, complex and layered agroforestry system managed according to agroecological principles.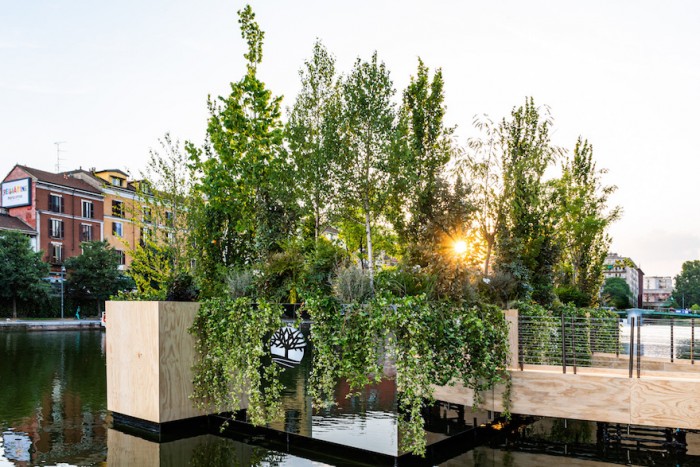 .
Read more:
Credits: Daniela Di Corleto