Created during a Creative Enterprise Development Program facilitated by The British Council, The Lagos Business School and CIDA UK, AFROMINIMA™ is a lifestyle and homeware brand from Nigerian designer and entrepreneur, Olubunmi Adeyemi. From wooden spoons and platters, to spice bowls and mortar and pestle sets, his range of modern, minimalist home-ware products reveal a deep love for simple spaces and objects.
As a designer, Adeyemi explains how he is influenced by everyday culture, everyday functional objects and innovative use of space. It was these influences and his growing high regard for the basic needs in urban life that led to his interest in the minimalist movement. And because he grew up loving simple spaces and objects, it was instinctive for him to connect this with his own African culture.
"Africa is a dynamic land and I am heavily influenced and inspired by our culture," says Adeyemi, "but I also believe in moving us forward to the future through design."
Because of his cognisance of how heavily design is influenced by culture and cultural practices, Adeyemi sees his AFROMINIMA™ project as more than just a brand.
"It's a creative language, ethos, philosophy and style – a movement connecting our past, present and future," he explains. "Design in general is influenced by culture, the Scandinavians, the Japanese and Africans all have strong cultural backgrounds in art and design."
Having studied in both London and Cape Town, Adeyemi developed a unique perspective on design due to the varied manners in which designers in these respective cities work. A lover of Japanese minimalist aesthetic and functional Scandinavian style, he's fused these practices with his own African heritage to create work that is distinctively uncomplicated yet conceptually complex.
Though most wouldn't immediately associate the concept of minimalism with Africa, Adeyemi cites Nigerian languages as just one of the examples of its prevalence. "My tribe, which is YORUBA, is a very popular culture in Nigeria," he says. "Our language is very expressive with the use of minimalist words to describe things. For example 'ORI' which means 'head': this simple word can be used to express so many different explanations."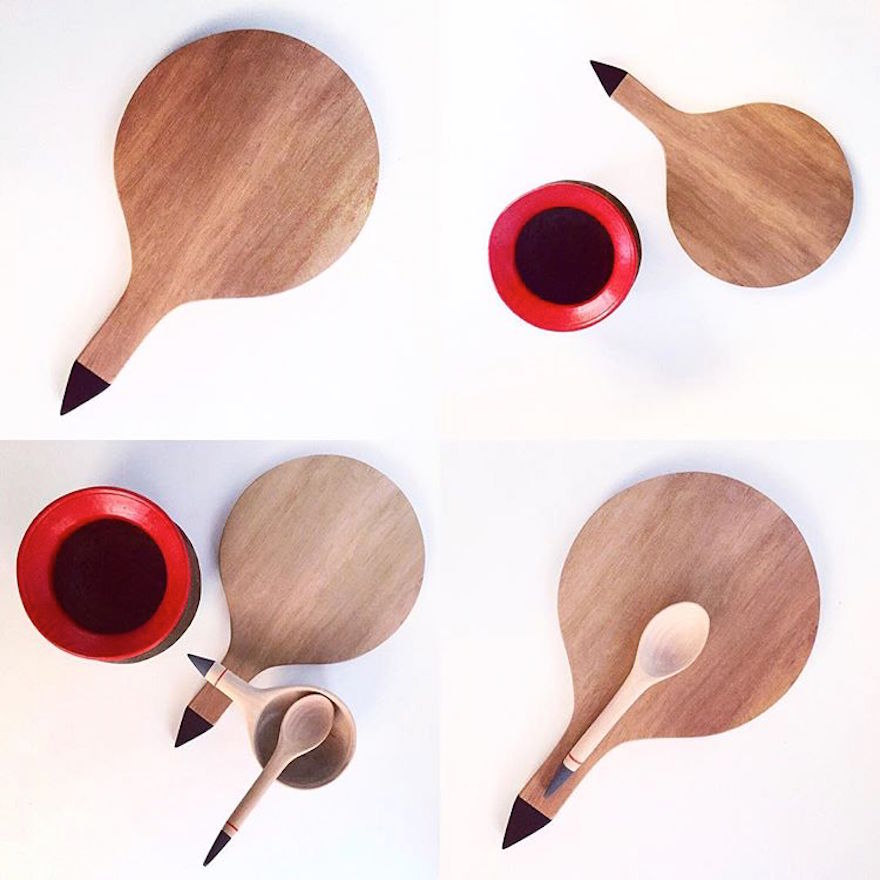 Earthy and contemporary – with splashes of color provided by non-toxic paints – Adeyemi's designs explore what he believes is Africa's untapped goldmine of creativity, contributing to an artistic movement that is connecting the continent's history with its potential through the grit, determination, perseverance and intuition of its creative minds.
Though he understands the African design industry is young, Adeyemi also recognises its strength and growth in all sectors. It's a force that has the power to change lives and boost the economy. "Design is power!" the designer affirms. "There are so many things waiting to be discovered and developed in Africa."
"Africans are now more enlightened and have the boldness to do amazing things. I believe artists, designers and creatives in general should look more into entrepreneurship and how they can change their talent into a profitable practice. One thing I strongly believe is if you add value with whatever creative field you are into, that same value will be giving back to you."
To keep up with Adeyemi's work with AFROMINIMA™, be sure to follow him on Instagram. You can also catch him at the 2017 Sanlam Handmade Contemporary Fair in Johannesburg from 13-15 October where he will be exhibiting his wares.