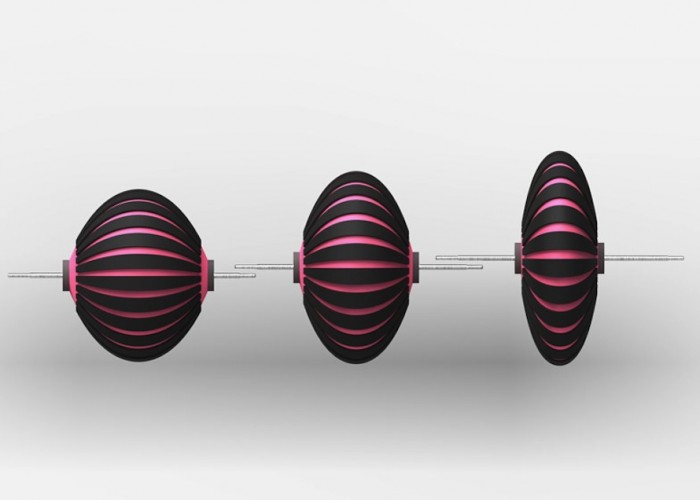 Roadless wheel system by Ackeem Ngwenya
Royal Collage of Art graduate Ackeem Ngwenya has designed a set of all-terrain wheels to help farmers in rural Africa carry heavier loads to market and replace the traditional method of "head-carrying" (+ slideshow).
Ngwenya's Roadless project is aimed at farmers working in rural areas of developing African countries. Due to a lack of proper roads and the expense of all-terrain vehicles, these farmers often rely on women and children carrying heavy loads on their heads and backs to transport their products to market.
"The general approach to the problem of inadequate transport infrastructure is for a government to build more road networks, which is expensive, may be subject to corrupt practices, and it doesn't make much sense to spend a lot of money on infrastructure which might only serve a few households or villages," said Ngwenya.
"Instead of building roads, Roadless takes the absence of infrastructure as a playground for creative thinking in the form of a wheel system that can be adapted to suit different terrain conditions such as muddy and rocky terrains, which are typical conditions in rural communities."
Formed from a flexible cage of stainless steel components, the Roadless wheels can expand and contract using a level to crank a central shaft with a mechanism similar to a scissor jack – the device used to raise cars for minor repair work.
The wheels are designed to be mounted onto an axle so they can be used on tricycles, trailers, wheelbarrows and light motorised vehicles.
In their standard form, the wheels resemble compressed basketballs. Pushing the sides in with the crank achieves a higher ground clearance for the vehicle they are attached to, while pulling them out creates a larger contact area with the ground.
They are made from stainless steel, spring wire, wood and key rings or cable ties, and can be wrapped in industrial rubber or used with reclaimed tyres for a smoother ride.
All the materials can be cheaply and easily sourced in the locations Ngwenya is targeting – including his home country of Milawi. He hopes to produce the wheels locally to create jobs.
"I grew up at the bottom of the social economic pyramid, but I have been fortunate enough to have moved up a step or two," Ngwenya told Dezeen. "One of design's main attributes is problem solving in the face of scarcity. I feel it is a moral duty to raise the quality of life for people at the lowest points in society, everywhere."
Ngwenya hopes the wheels will enable users to not only increase the load they can carry to market, but also extend the possible range for farmers to transport their produce and reduce the amount of time spend travelling.
"It would especially have a positive impact on the lives of women and young children, whose heads, backs and legs are the most common form of transport," said Ngwenya.
"Moving things from one point to another is very important for society," said the designer. "We want to offer opportunities to escape the grasp of perpetual poverty, become self-sufficient and attain a decent quality of life."
The Roadless wheel is currently a prototype. Ngwenya presented the project in a Pecha Kucha at the Design Indaba conference in Cape Town last month.
Watch the Talk with Ackeem Ngwenya