Download
options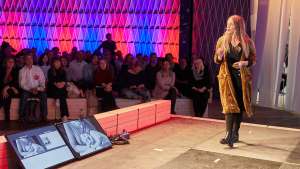 Download: Oliber helps people with partial or total atrophy of the hands
Click on a link to download the video file
Arthritis, osteoarthritis, burns sequelae or amputations of hands are among several conditions that can lead to partial or total atrophy of the hands.
Because the hands become cocoon like, everyday tasks like eating, writing or cleaning are nearly impossible without help. Oliber is a low-cost solution to this problem designed by Bárbara López from the Universidad del Desarrollo in Chile.
It's an easy to use, inexpensive magnetic mitten that allows people with atrophied hands to pick up objects via magnets and metal plates, enabling users to eat by themselves, brush their teeth, write with precision, draw, hold up their phone, and many other tasks.
The magnets allow users to hold up to 2.2 pounds. For objects that are not metal, Oliber comes with four metal plates that can be stuck to anything the user needs.
Lopez was one of 20 graduates to speak at antenna conference in October. Hosted and co-produced by Dutch Design Week in Eindhoven, antenna brings together graduates from around the world who are designing for the future.
The list of speakers is painstakingly curated by a team at Design Indaba to reflect projects that respond to the needs of tomorrow.
Watch more antenna talks:
Could lichen, the moss-like plant that grows in pavement cracks be a new food source?
Designed for refugee bunkers, these are everyday comforts we take for granted