Download
options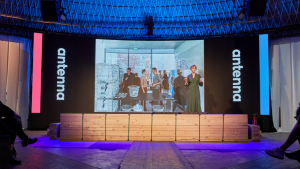 Download: Designing a way to build bonds between strangers
Click on a link to download the video file
Chance encounters with strangers is one of those little serendipitous quirks of daily life. This is something Design Academy Eindhoven graduate Manon van Hoeckel is keenly aware of, but her work acknowledges that we need more of these encounters among people from all walks of life.
"We're social creatures but we don't speak to strangers," she says from the antenna stage in Eindhoven last October. The annual antenna conference is a global scan of the design graduates changing the world - a collaboration between Design Indaba and Dutch Design Week.
Van Hoeckel turned her focus to refugees in Amsterdam. In an attempt to encourage citizens to speak with them, rather than about them, she created the In Limbo Embassy or Embassy of the Undocumented.
It's a mobile office that went around the country as a neutral meeting point between refugees and citizens. Presenting an opportunity for dialogue and cultural exchange, In Limbo has ambassadors who welcome passers by to engage.
Another project by van Hoeckel, Boijman's Wassalon sought to get people talking in the museum space - a space synonymous with quiet. To propagate this, she staged an intervention that asked people to come to the museum to wash their laundry.
Granting free access to the space, Boijman's Wassalon aimed to get people talking to strangers while they wait. The museum saw an increase of more than 650 people to its grounds in three months.
One of her other projects, Coupe de Schiedam was a response to a brief from Stedelijk Museum Schiedam for an exhibition titled 'Family.' In order to get people to speak about family and what it means to them, she turned to the expert conversation starters: hairdressers.
The space provided free hair cuts every Sunday, but beyond the free treatment, it created a space to exchange conversation with the hairdresser, highlighting the profession's overlooked role in society to get people talking.
See more of the antenna talks:
An easy low-cost way to deliver medicine in rural areas
Basic Income Cafe is a uses coffee as a metaphor for the flow of money