Download
options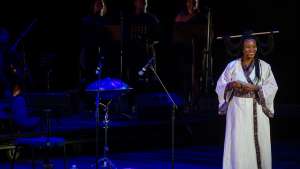 Download: Trailer: The Venus Bushfires on storytelling and bridging the middle
Click on a link to download the video file
Helen Isibor-Epega, who writes and performs as The Venus Bushfires, was born in Nigerian and moved to London aged seven. She is a composer, singer-songwriter and performance artist and the two different cultures of her homes have heavily influenced her creatively. Last year, she debuted her Pidgin English Opera – the first Pidgin Opera in the world – in Kings Cross, London. Titled "Song Queen: A Pidgin Opera", the piece fuses a widely spoken vernacular language with a classical high art.
"I want to share with you the importance of bridging the middle," says Isibor-Epega. "Growing up there much that I really really longed to hear, except for the phrase 'once upon a time'," says Isibor-Epega. "I would know I was about ot be transported into a magical fairy land."
But fearing the phrase she knew would follow –"the end" – Isibor-Epega has spent her life making up her own middle. She claims to be an optimist and a dreamer ("that's probably why I'm a musician"), but most importantly she is a storyteller. Around the world, people are brought together by stories that help them bridge the gaps between their understanding of the world.
The Pidgin Opera, which was inspired by Wagner, is about Mami Wata, the goddess of the sea. The opera bridges the middle: it brings together the two unlikely worlds of Pidgin English and classical opera.
At Design Indaba Conference 2016 Isibor-Epega performed an extract from the Pidgin Opera and her song "Last Winter Sparrow", and was joined on stage by musicians from the Cape Town Youth Orchestra and UCT College of Music, and by a dancer from Jazzart.
Watch the Talk with Helen Isibor-Epega