Download
options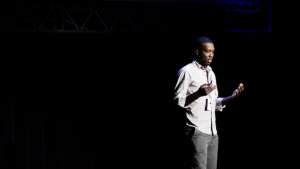 Download: Christian Benimana on architecture that serves the community
Click on a link to download the video file
"To be honest, I had never met an architect before I went to school," says Rwandan architect Christian Benimana. Until 2008 there were no schools of architecture in Rwanda, and there is no word for architect in the native language. Benimana went on a scholarship to Shanghai to study, and had to learn Mandarin to understand his lecturers. "I came to learn later that Africa counts for about a quarter of the amount of architects in a quarter of Italy alone."
Benimana is the Rwandan programmes manager for MASS Design Group. As head of their African operations, he has a unique insight into their philosophies and into how their work is impacting the communities they build in.
Benimana is a passionate advocate for the MASS Lo-Fab movement, which encourages architects to hire locally, source materials regionally, train and upskill wherever they can, and invest in dignity. These principles lead to the practice of architecture as a holistic process rather than just a product: architecture that serves the people and aims to deliver basic human rights.
In his talk, Benimana asks a series of questions about the capabilities of the built environment: can a building heal, can a neonatal ward celebrate childhood, and can a health clinic end an epidemic? Can architecture be a catalyst for peace and reconciliation? He answers these questions with moving examples of the work that he has been involved in across 10 countries in Africa, Haiti and the US. In the videos he shares, he introduced artisans, craftsmen and carpenters, and members of communities who had been enriched by their involvement with the various MASS projects.
His final example is the peace memorial in Montgomery, Alabama. "How about more sensitive issues. Can architecture make us live better with one another? My country, Rwanda, like South Africa and Germany, have we've realised that it is important that we erect monuments that help us reflect on our dark history. But there are countries that haven't done it."
Benimana stressed the importance of architecture with a mission, particularly in Africa where the population is increasing so fast and with it the demands on the urban environment. This year, Benimana is driving the African Design Centre, a two-year fellowship programme based in Kigali, where fellows engage in real projects.
"With the African Design Centre we'll nurture a creative leadership that will take on the massive challenges that the continent is facing."
Watch the Interview with Christian Benimana